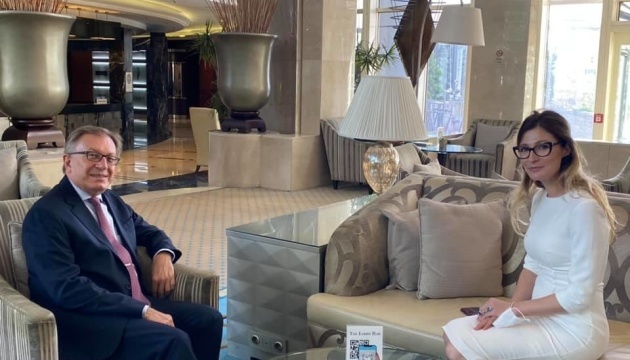 Ukraine stands for NATO's permanent presence in Black Sea - Dzheppar
Ukraine is in favor of outlining a clear vision of NATO's presence in the Black Sea, believing that the Alliance's permanent presence could hamper Russia's growing "appetites" in the Sea of Azov, the Black Sea and the Mediterranean Sea.
This issue was discussed at a meeting between Ukraine's Deputy Foreign Minister Emine Dzheppar and a member of the experts group as part of the NATO 2030 reflection process (NATO 2030), Ambassador Tacan Ildem in Ankara on Thursday, October 15.
"We talked about security in the Black Sea. I reiterated Ukraine's position that there should be a vision of NATO's presence in the Black Sea because of Russia's aggression, because of the consequences of Crimea's militarization that concern not only Ukraine's security but also at least the Black Sea and Mediterranean countries. This is a larger circle of countries," Dzheppar told Ukrinform following her face-to-face meeting with Ildem.
According to her, the Alliance sees the Azov, Black and Mediterranean Seas as "one security belt" and NATO's leading role in the region could hinder Russia's actions and encroachments.
"Russia has turned the Sea of Azov into its inland lake, and it wants to do the same with the Black Sea (where the geography of influences is slightly different), and what is happening in Syria and Libya is directly related to their military capabilities and the development of military bases in Crimea. This affects their appetites and capabilities in the Mediterranean, the Middle East and North Africa. We are talking about the continuity and interconnection of all these processes, and we believe that in order to stop Russia or prevent Russia from developing these appetites, NATO must play a leading role, including through its permanent presence in the Black Sea," Dzheppar said.
She recalled that the NATO 2030 reflection process, an idea unveiled by NATO Secretary General Jens Stoltenberg, aims to outline the future of the Alliance for the next ten or more years.
"It was about Ukraine's role in this process. We believe that the security of NATO countries and the security of Ukraine are inseparable. We have an ambition - to become a full member of this organization. It is incorporated in the Constitution, and all our security and defense reforms are in line with NATO's instructions and criteria. A very important element is the Annual National Plan, which we are implementing. This year it consisted of 482 items, last year it consisted of more than 300. Every year we report on the implementation of the ANP," she said.
Dzheppar is on a visit to Turkey. On October 14, Crimea became the key topic of her meeting with Turkish Foreign Minister Mevlut Cavusoglu.
op