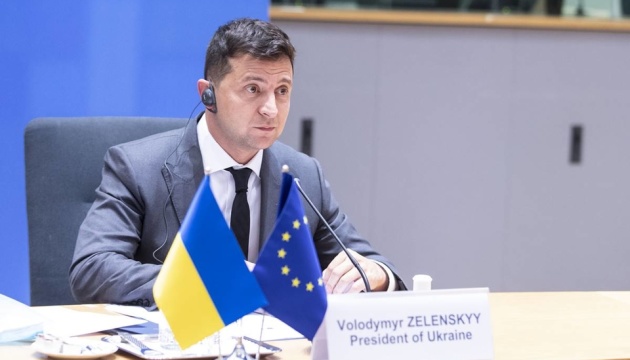 Ukraine-EU summit: Zelensky announces ambitious and unprecedented plans
President of Ukraine Volodymyr Zelensky stated that representatives of Ukraine and the European Union outlined further steps of active cooperation and interaction during the 22nd Ukraine-EU Summit.
He said this at a press conference following the summit, the president's press service reports.
Zelensky expressed gratitude for the organization and holding of the summit, which took place despite all the challenges related to the fight against COVID-19.
He noted that the progress in the implementation of the Association Agreement was carefully considered during the talks.
"Further steps of Ukraine's active cooperation with the European Union were outlined. I can assure you that our plans are ambitious and unprecedented," Zelensky said.
President of the European Council Charles Michel has noted that the EU will remain Ukraine's biggest and most reliable partner and seeks to deepen cooperation as evidenced by the amount of assistance provided to the Ukrainian state. According to him, the cooperation in combatting COVID-19 has reconfirmed the solidarity and close partnership between the EU and Ukraine. He has added that the EU-Ukraine Association Agreement provides the framework for continuing political association and it aims to establish conditions for enhanced economic and trade relations leading towards Ukraine's gradual integration in the EU Internal Market.
EU High Representative for Foreign Affairs and Security Policy Josep Borrell also noted the potential for cooperation.
"We will continue supporting you because your progress is our progress and your security will be our security. The macro-financial assistance is part of this partnership. The mobilization of resources to address the coronavirus crisis is also part of this partnership. We share borders. We share history, culture, interests and values. Ukraine's people have sacrificed a great deal for a brighter, more prosperous future," he said.
As reported by Ukrinform, the 22nd EU-Ukraine Summit took place in Brussels on October 6, during which representatives of Ukraine and the European Union signed six financial agreements worth almost EUR 400 million.
iy