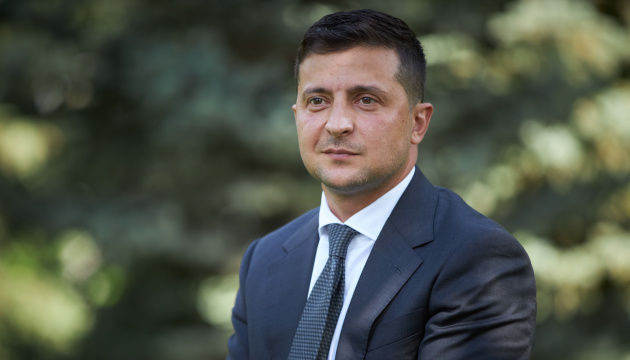 President Zelensky's expectations from EU-Ukraine Summit: Sanctions against Russia, coronavirus vaccine, ACAA
President of Ukraine Volodymyr Zelensky considers imposition of sanctions on Russia, participation in creating and manufacturing coronavirus vaccine, and signing Agreement on Conformity Assessment and Acceptance of Industrial Products to be the main issues of the current EU-Ukraine Summit.
"Sanctions are a top-priority issue. EU's support for our sovereignty and territorial integrity depends on a strong sanctions policy against Russian aggression. You know that we have a war in the east. [EU provides] great support for Ukraine at the geopolitical level, and it's linked with the economy. That is why sanctions are a top-priority issue," Zelensky said in an interview with Politico Europe, Ukrinform reports citing the presidential press service.
As noted, the issue of Ukraine's participation in the creation of the coronavirus vaccine is also important.
"I want to tell the EU [Member States that], unfortunately, we do not have a [coronavirus] vaccine yet but we want to get it. In addition, we have necessary capacities for vaccine production, and we are ready to assist the EU countries in mass production of the vaccine," Zelensky said.
Another important issue, according to the President of Ukraine, is access to markets.
Zelensky reminded that Ukraine's economy had been focused on imports and exports of goods from/to Russia for many years, but almost all exports were reoriented towards the EU since the beginning of the war.
In this regard, he stressed the need for Ukraine's free and fair access to the EU markets.
"Ukraine's path towards the EU membership is unchanged. We want the EU to support our aspirations, especially amidst the current crisis. I mean not only access to markets but also signing the Agreement on Conformity Assessment and Acceptance of Industrial Products," the President stressed.
At the same time, he assured that Ukraine had prepared for this strategically important summit, informing that the Parliament had passed the laws on electronic communications, blood donation, concessions, deregulation and considered the water transport bill.
The complicated reforms, including the EU-supported land reform, are being implemented in Ukraine, Zelensky added.
"I think we are ready for this Summit," the President of Ukraine assured.
As reported, the 22nd EU-Ukraine Summit will take place in Brussels on October 6.
ol