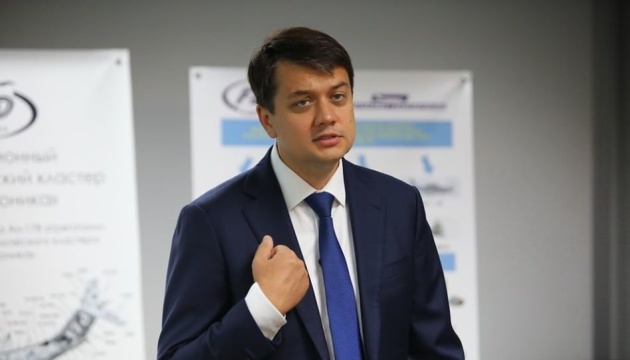 Ukraine, China to strengthen parliamentary cooperation
Speaker of the Verkhovna Rada of Ukraine Dmytro Razumkov and Ambassador Extraordinary and Plenipotentiary of the People's Republic of China to Ukraine Fan Xianrong discussed the issues of inter-parliamentary and trade and economic cooperation.
In particular, the parties discussed opportunities to resume intensive cooperation between the parliaments of both countries after the final overcoming of the pandemic.
"Ukraine is a parliamentary-presidential republic, and the interaction of our parliaments is crucial for continuing cooperation with China," Dmytro Razumkov said, the press service of the Verkhovna Rada informs.
The Speaker of the Verkhovna Rada also said that Ukraine was interested in deepening trade and economic cooperation between the two countries.
"Despite the coronavirus crisis and its consequences, Ukraine-China trade and economic cooperation has intensified, indicating the prospects for the development of this area," Razumkov said.
The Ukrainian Parliament Speaker thanked the Ambassador for China's support for Ukraine in the context of the coronavirus pandemic, namely for the government and non-governmental humanitarian aid and comprehensive assistance in returning Ukrainian citizens home.
In addition, Dmytro Razumkov expressed gratitude for China's unwavering position and respect for Ukraine's territorial integrity, independence and sovereignty, and stressed that Ukraine also abode by its commitments with regard to Taiwan, Tibet, and Xinjiang.
In turn, the Chinese ambassador noted that the conditions of the modern world dictate the need to unite and deepen interstate cooperation to overcome challenges.
ol