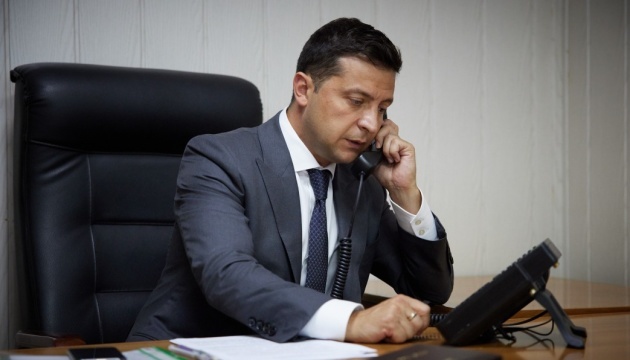 Zelensky, Aliyev discuss coronavirus, Donbas, privatization
Ukrainian and Azerbaijani Presidents Volodymyr Zelensky and Ilham Aliyev have discussed the implementation of a number of large-scale infrastructure and investment projects that are being implemented in Ukraine with the active participation of large businesses and investors from Azerbaijan.
The heads of state discussed this issue during a phone call, the Ukrainian president's press service said.
"It is a pleasure that Azerbaijani partners take an active part in the implementation of important projects in our country. A striking example is the major repair of 38 kilometers of the M-01 Kyiv - Chernihiv - Novi Yarylovychi highway. We are also moving towards the completion of the construction of the service hub at the Chonhar checkpoint," Zelensky said.
He noted the dynamics of the bilateral political dialogue and invited Azerbaijani companies to participate in large-scale privatization. He also suggested intensifying bilateral cooperation in the framework of projects with the Antonov State Enterprise.
Both sides also discussed the epidemic situation and measures taken in Ukraine and Azerbaijan to combat the spread of coronavirus.
Zelensky noted that Ukraine has a low mortality rate among patients with COVID-19 compared to other countries. At the same time, he noted that citizens are already tired of quarantine restrictions.
The presidents expressed hope for the prompt development of a vaccine and agreed to continue coordinating the two countries' efforts to counter the spread of coronavirus.
Zelensky also briefed Aliyev on the security situation in Donbas. He recalled that during the meeting of advisors to the leaders of the countries participating in the Normandy format, the need to adhere to the permanent ceasefire, which has lasted for almost two months, was confirmed. During this time, as a result of the provocation, Ukraine lost one serviceman, but on other days there were no combat losses.
Aliyev stated Azerbaijan's support for Ukraine's sovereignty and territorial integrity and stressed that Azerbaijan treats Ukraine as a close strategic partner.
Zelensky and Aliyev paid special attention to discussing cooperation between Ukraine and Azerbaijan in the cultural and humanitarian sphere, sports, tourism and interpersonal contacts. Zelensky also expressed gratitude for the fact that the Azerbaijan National Carpet Museum has implemented the project of the First Lady of Ukraine and provides tourists with Ukrainian-language audio guide services.
"I am especially pleased that the Museum has made this wonderful gift to Ukraine for the Independence Day of our country - since August this year, the museum has started 'speaking' Ukrainian," Zelensky said.
op