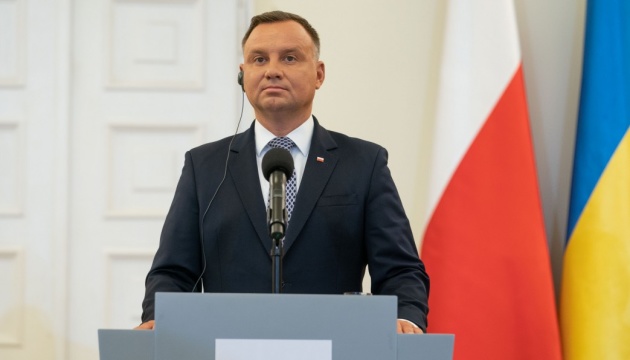 Polish president to visit Ukraine on Oct 12-13
Polish President Andrzej Duda will pay a visit to Ukraine on October 12-13, according to Jan Hofmokl, Director at the Eastern Division of the Polish Foreign Ministry.
He said this during the Economic Forum in Karpacz, Poland, on Friday, September 11.
"President Duda's visit to Ukraine is scheduled for October 12-13," Hofmokl said.
He said the details of the visit were being finalized. Duda will stay in Kyiv on the first day of the visit, and the plan for the second day of the visit is still being agreed, Hofmokl said.
He said that despite the COVID-19 pandemic, a meeting of the Ukrainian-Polish intergovernmental commission on economic cooperation is also to be held as soon as possible.
Hofmokl stressed that Polish-Ukrainian relations were now very intensive, with Kyiv and Warsaw holding expert meetings on various issues. In particular, negotiations are underway on the issuance of permits for transit freight, vaccination, and health care.
"We see our strategic partnership with Ukraine in Kyiv's even greater involvement in solving the problems of this part of Europe, as the Ukrainian voice is important," he said.
op