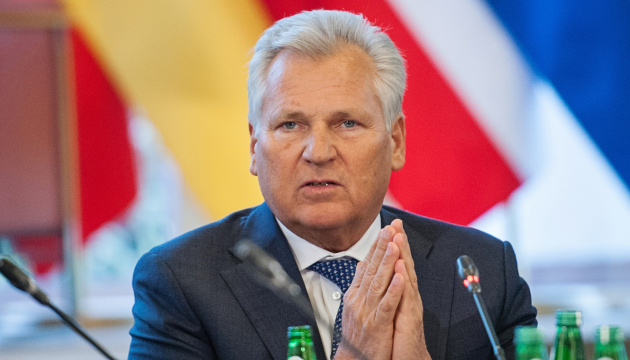 Kwasniewski predicts great European future for Ukraine
Former Polish President Aleksander Kwasniewski is convinced that Ukraine and its people will have a great European future.
According to Ukrinform, Kwasniewski said this in a special video posted on the UkraineNOW page on Facebook.
"When I visited an independent Ukraine for the first time, I was impressed by greatness and difference in this country. I understood and acknowledged it many times that Ukraine is not Russia. Ukraine has a very rich and long history, with many dramatic and tragic moments. Ukraine is a beautiful country, with the Black Sea, the Carpathian Mountains, powerful rivers, nice cities. Ukraine has a great culture, with the tradition of many languages, many confessions. First of all, what impressed me are people: very energetic, very determined, talented and ready to work and fight for the democratic future of a sovereign Ukraine. I am impressed by the young generation and I think these young people in Ukraine are ready to build such a beautiful democratic Ukraine, part of our prosperous world. I wish them such success!" he said.
Kwasniewski is a Polish statesman and politician. He was president of Poland in 1995-2005 (re-elected in 2000 for a five-year term).
op