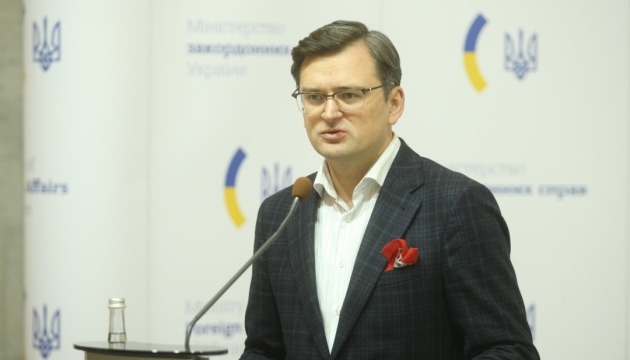 Ukraine to respond harshly to unfriendly actions of Belarusian authorities - Kuleba
Ukraine will respond harshly to the unfriendly actions of the Belarusian authorities, rather than statements they make, Ukrainian Foreign Minister Dmytro Kuleba has said.
"We will respond harshly to the actions of Belarus, not to the words of Belarus. […] We did not summon the Belarusian ambassador yesterday. […] There will be a verbal answer to every statement, and there will be an effective answer to every action. For example, when Belarus handed over Wagner group mercenaries to Russia, it was a key moment for me to decide to recall the [Ukrainian] ambassador for consultations, and unfriendly statements that were made were additional arguments, but not the main argument. Therefore, we will respond to words with words, and we will respond to actions with actions," Kuleba said during an online briefing on Friday, September 4.
He said that Ukraine's Ambassador to Belarus Ihor Kyzym was still at consultations in Kyiv and this week he took part in a meeting on relations with Belarus in the Verkhovna Rada of Ukraine.
Kuleba also noted that statements made by the Belarusian side create an extremely negative background for relations, as those statements are completely untrue.
"It is especially unpleasant that while the Russian Federation is exercising quite effective control over the events in Belarus, the Belarusian side, our partners, are accusing Ukraine of what it is not doing. Instead, this is exactly what Russia is doing now in Belarus," the diplomat said.
According to him, the Ukrainian side understands that this rhetoric will continue. At the same time, he said that Ukraine should approach the Belarusian crisis solely in terms of its national interests.
"Firstly, this is national security. Secondly, this is the protection of Ukrainian citizens on the territory of Belarus. Thirdly, this is the protection of our economic interests in relations with Belarus. It is always necessary to consider the situation comprehensively. It is not necessary to rush, to react to every word, because it is a very difficult game, and we have to minimize the negative consequences for Ukraine in this game," Kuleba said.
On August 17, Kuleba recalled Ukrainian Ambassador to Belarus Ihor Kyzym for consultations given the political situation in the neighboring country.
On August 28, Kuleba said that Ukraine had stopped preparing for and holding all official meetings with Belarus due to the tense situation in the country.
op