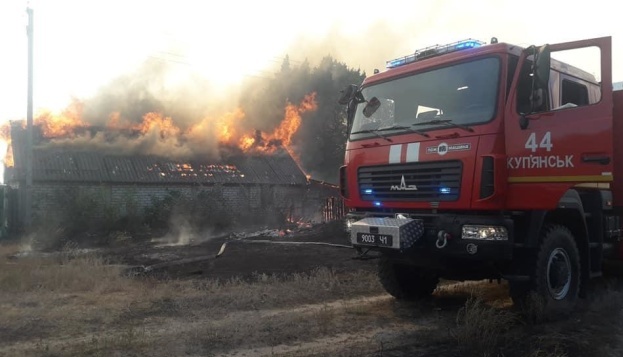 President controls situation with extinguishing fires in Kharkiv and Luhansk regions
President of Ukraine Volodymyr Zelensky heard the latest information on the situation with fires in Luhansk and Kharkiv regions from Prime Minister Denys Shmyhal and government officials who are currently at the scene of fires.
According to the President's Office, Deputy Prime Minister - Minister for Reintegration of the Temporarily Occupied Territories Oleksiy Reznikov, Minister of Defense Andriy Taran, Minister of Internal Affairs Arsen Avakov, Minister of Social Policy Maryna Lazebna went there.
They reported that 33 people were left homeless due to the fires.
The government officials noted that they are currently taking measures that have been developed and justified in fire extinguishing and eliminating the effects of recent fires in Luhansk region. All those who lost their homes will also be paid up to UAH 300,000 in compensation. Interior Minister Avakov informed that the money would be transferred to people within a month.
The President was also informed that arson was being considered as a possible cause of the fires.
According to the latest information from the State Emergency Service, firefighting aircraft of the Ministry of Internal Affairs are involved in the fire extinguishing in Kharkiv and Luhansk regions: two An-32P aircraft and a Mi-8 helicopter from the SES of Ukraine. Currently, aerial monitoring shows that there is no naked flame and no threat to settlements, Avakov stated.
On September 2, a wild fire broke out near the village of Horobyivka, Dvorichne district, Kharkiv region, which destroyed at least 22 houses. Some 33 people were resettled. The total area covered with the fire is 500 hectares, including 100 hectares of a crown fire. As of the morning of September 3, the fires in Horobyivka and Hrianynivka were neutralized. The fire is being extinguished on an area of about 100 hectares.
In Luhansk region, 24 grass fires were recorded on an area of about 1,200 hectares. Two people were hospitalized with burns of varying severity. The fire destroyed 13 empty houses. The fire-fighting operation in Luhansk region is complicated by the detonation of mines and other explosive ordnance.
ish