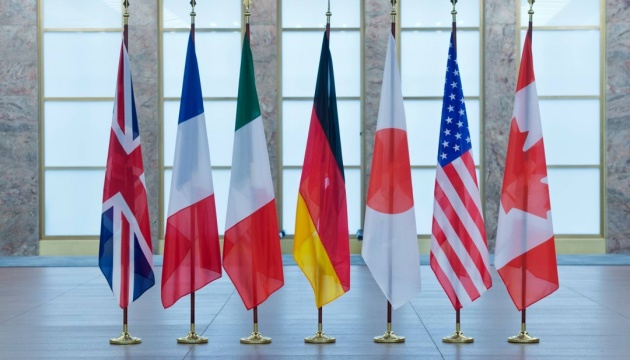 G7 ambassadors call for transparent selection of heads of anti-corruption institutions in Ukraine
Ensuring the independence of anti-corruption institutions is an important element of Ukraine's international commitments, and their leaders should be selected through transparent and politically neutral processes, the ambassadors of the G7 countries have said in a statement on Twitter.
"Ensuring independence, integrity and strong legal status for these institutions is an important element of Ukraine's international commitments, including as part of cooperation with the EU and continuing support from international financial institutions," the diplomats said.
They added that it is essential for the quality of life of Ukrainian citizens and for Ukraine's business and investment climate.
"G7 Ambassadors underscore the need to select heads of anti-corruption institutions through transparent, merit-based and politically neutral selections processes," the statement said.
On August 28, the Constitutional Court declared unconstitutional a presidential decree appointing Artem Sytnyk director of the National Anti-Corruption Bureau of Ukraine (NABU).
In May 2020, the Constitutional Court received a motion from 51 MPs regarding the constitutionality of the presidential decree appointing Sytnyk as NABU director.
On July 9, the Grand Chamber of the Constitutional Court began the consideration of the case.
The authors of the motion, including Oleksandr Dubinsky, Maksym Buzhansky, Viktor Medvedchuk, Andriy Derkach and others, believe that the president illegally appointed Sytnyk the NABU director, as the Constitution does not stipulate the power of the head of state to appoint the NABU director.
In their opinion, the president, by appointing the director of the NABU, went beyond his constitutional powers and violated a ban on the usurpation of state power established by Part 4 of Article 5 of the Constitution.
Sytnyk was appointed the NABU director in April 2015 by then-President Petro Poroshenko.
Halyna Yanchenko, deputy head of the Servant of the People faction, told Ukrinform on September 1 that the Verkhovna Rada could make changes to the legislation this year that would provide for a transparent procedure for dismissing heads of anti-corruption institutions.
Earlier, NABU Director Artem Sytnyk said that the parliament should eliminate conflicts between the Constitution and the law on the NABU.
op