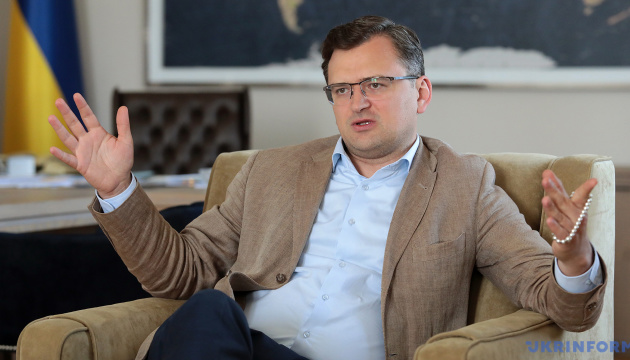 Kuleba enlists North Macedonia's support for Ukraine's NATO and EU integration
Ukrainian Foreign Minister Dmytro Kuleba has held a phone call with the newly appointed Minister of Foreign Affairs of North Macedonia, Bujar Osmani, and enlisted North Macedonia's support for Ukraine's integration into NATO and the EU, the Ukrainian Foreign Ministry's press service has reported.
According to the report, Kuleba congratulated Osmani on his election as North Macedonia's foreign minister.
"Dmytro Kuleba expressed hope that North Macedonia would support Ukraine's European and Euro-Atlantic integration as a member of NATO and a candidate country for EU membership. Bujar Osmani assured [Kuleba] of such support and expressed his readiness to share the successful experience of [his country's] integration into the North Atlantic Alliance," the report reads.
Both parties paid special attention to the development of trade and investment between the two countries. Osmani said he was confident that his country has great potential for the development of economic cooperation and trade with Ukraine.
The sides also discussed North Macedonia's joining the EU sanctions policy against the Russian Federation.
"Bujar Osmani stressed that North Macedonia continues to share the EU's position and supports Ukraine in its efforts to protect and restore territorial integrity and sovereignty within internationally recognized borders," the Ukrainian Foreign Ministry said.
Both parties agreed to intensify the political dialogue and strengthen bilateral relations between Ukraine and North Macedonia, as well as to resume the work of the joint committee on the implementation of the free trade agreement as soon as possible.
Kuleba invited Osmani to pay a visit to Ukraine. Osmani accepted the invitation and, for his part, invited Kuleba to visit his country.
op