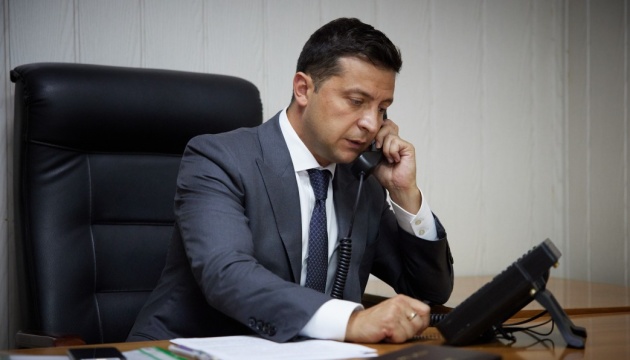 Zelensky, Pompeo discuss Donbas, Belarus
Ukrainian President Volodymyr Zelensky and U.S. Secretary of State Mike Pompeo have discussed bilateral cooperation and the process of peaceful settlement in Donbas, the President's Office has reported.
"In a phone conversation, President of Ukraine Volodymyr Zelensky and U.S. Secretary of State Mike Pompeo discussed topical issues of bilateral cooperation, the peace process in Donbas, and exchanged views on the situation in Belarus," the report said.
According to the report, Pompeo congratulated Ukraine and the people of Ukraine on the 29th anniversary of independence.
At the same time, Zelensky noted the importance of financial assistance from the United States to maintain the stability of Ukraine's economy and public finances.
The head of state also stressed the exceptional importance of Ukraine's cooperation with the United States in the field of security and taking measures to ensure its implementation.
According to the report, Zelensky informed Pompeo about the efforts of the Ukrainian side to achieve progress in a peaceful settlement of the situation in Donbas and thanked the United States for its continued support for Ukraine's sovereignty and territorial integrity.
"The 'silence' regime in Donbas has lasted for 31 days already. Fortunately, there are no combat losses among our military. This became possible thanks to both our work and the support of Europe and yours," Zelensky said.
According to the report, Pompeo commended this achievement and noted that Ukraine enjoys bipartisan support of the United States.
The sides also exchanged views on a number of international issues, including the situation in Belarus.
"The main thing is for the situation in Belarus to stabilize, for a peaceful settlement to be achieved. Ukraine has never interfered and does not plan to interfere in the elections of any state," Zelensky said.
He also expressed hope that the will of the Belarusian people will be realized in the near future.
In addition, Zelensky said that he would not allow any interference by Ukraine in the U.S. election process, and any attempts by individual politicians to make certain statements have a clear provocative mark of joint opponents of Ukraine and the United States.
Photo: President's Office