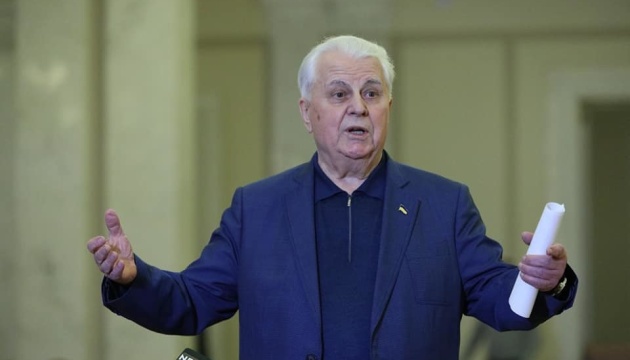 Kravchuk puts forward two initiatives for discussion in Trilateral Contact Group
Head of Ukraine's delegation to the Trilateral Contact Group, Ukraine's 1st president Leonid Kravchuk intends to suggest establishing a Donbas reconstruction fund and introducing free economic zone in eastern Ukraine.
"The first step will be offensive one. Let's start with the Budapest Memorandum. Ukraine once had nuclear weapons, 175 missiles. Each missile had five warheads. [Ukraine had] more than 1,000 warheads in total. At that time, each missile launch facility cost a billion dollars. Now the total cost would be about $300 billion. And that step by Ukraine was of great importance for reducing nuclear arsenals and spending on arsenals of nuclear powers that exist today," Kravchuk said on the air of Ukraine 24 TV channel.
With that in mind, Ukraine has the right to raise the issue of creating a special fund for Donbas reconstruction, he added.
Another initiative of Kravchuk concerns the creation of a free economic zone in Donbas.
"When I was president, we created a free economic zone covering Donetsk, Luhansk, Dnipropetrovsk regions. Later, that zone was forgotten. I think now we also need to introduce such zones in all regions. When people will get down to work, investments will go there, and there will be no need to speak about any special status of Donbas," the first president is convinced.
On July 30, President Volodymyr Zelensky appointed Leonid Kravchuk as the Head of the Ukrainian delegation to the Trilateral Contact Group for the peaceful settlement of the situation in Donetsk and Luhansk regions.
ol