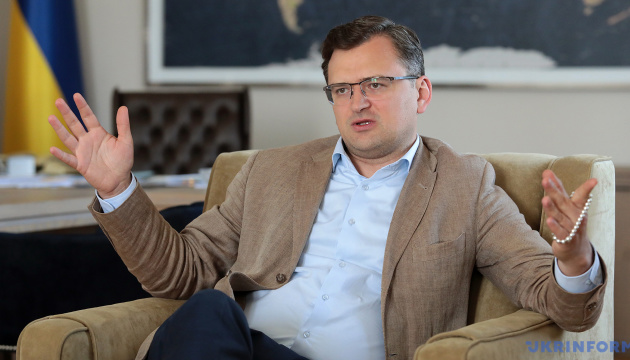 Kuleba comments on Kozak's letter: Ukraine interested in preserving 'Normandy-Minsk' infrastructure
Ukraine is interested in preserving the current infrastructure for the peaceful settlement of the situation in Donbas - the Normandy format and the Minsk process - and closely follows Russia's further actions.
"A lot of emotions, a lot of steps, attempts to strengthen their position in the negotiation process, we closely follow what the Russian Federation will actually do after this letter from Kozak. Ukraine is fundamentally committed to preserving the Normandy format and continuing the Minsk process, in which Ukraine and Russia are parties to the conflict and with the OSCE as a mediator, seek solutions that can promote and lead to a peaceful settlement," Minister of Foreign Affairs of Ukraine Dmytro Kuleba said at a briefing, commenting on the letter of Deputy Head of the Administration of the President of Russia Dmitry Kozak on the possibility of terminating Normandy format negotiations at the level of advisers.
The minister reminded that the infrastructure of the peace process had been formed in 2014. It consists of Normandy format summits, the talks of the "Normandy Four" foreign ministers, the talks of advisers to the leaders of the four countries, and the Trilateral Contact Group, which includes many subgroups.
"Ukraine is interested in preserving this infrastructure, which has proved its efficiency and constructiveness- if the Russian Federation is determined to find solutions, rather than create new problems," Kuleba said.
As the Ukrainian minister reminded, political agreements at the highest level are reached in the Normandy format and then are implemented in the Minsk process.
Apart from Kozak's letter, which appeared in the media yesterday, the Ukrainian side has not received any other signals and has not seen any concrete steps on the part of the Russian Federation.
Kuleba stressed that Ukraine is not rushing to make any conclusions but is waiting for further steps by Russia in this direction.
Earlier, some media reported that Deputy Head of the Administration of the President of Russia Dmitry Kozak sent letters to advisers of the Normandy format leaders, allegedly calling the talks on Donbas at the level of advisers "meaningless" and offered to abandon them. Kozak believes that the foreign ministers of Ukraine, Russia, France, and Germany should agree on the issues that their advisers were earlier engaged in.
ol