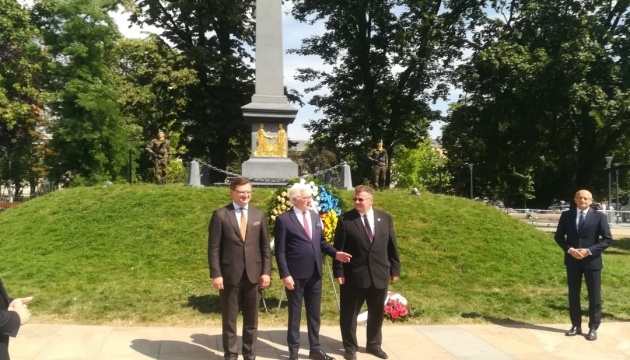 Poland, Lithuania condemn Russian aggression in Ukraine - joint declaration
Poland, Lithuania and Ukraine condemn Russian aggression in Ukraine, support Ukraine's EU integration aspirations, and call for granting Ukraine a NATO Membership Action Plan, according to a joint declaration of the foreign ministers of Ukraine, Poland and Lithuania on the establishment of the "Lublin Triangle."
"[The foreign ministers] declare invariably their strong condemnation of the attempted annexation of the Autonomous Republic of Crimea and the city of Sevastopol by the Russian Federation. They do not recognize it and will never do it. They also call upon the Russian Federation to withdraw its troops from the parts of Donetsk and Luhansk regions of Ukraine," the declaration reads.
The foreign ministers of the three countries called on Russia to "stop its aggression against Ukraine, as well as its temporary occupation of Ukraine's territories of Crimea and parts of Donetsk and Luhansk regions of Ukraine."
The parties reaffirmed "their firm support for the European and Euro-Atlantic aspirations of Ukraine and welcome its European choice."
At the same time, the ministers noted with satisfaction the "granting of NATO Enhanced Opportunities Partner status to Ukraine."
"They support Ukraine's aspirations to NATO membership. Providing Ukraine with the NATO Membership Action Plan should be the next step to this direction," the joint declaration reads.
In the document, the ministers stressed their readiness to deepen and broaden Polish-Lithuanian-Ukrainian military-to-military cooperation, both through bilateral and trilateral activities and by making full use of possibilities created by NATO. To achieve these goals, the ministers decided to create a trilateral platform for political economic and social cooperation between Poland, Lithuania and Ukraine - Lublin Triangle.
According to the declaration, as part of the Lublin Triangle, the ministers will organize their regular meetings, including in the margins of multilateral sessions and with the participation of chosen partners. They will also organize consultations of high-level foreign ministry officials and establish liaison-officers within the Ministries of Foreign Affairs.
op