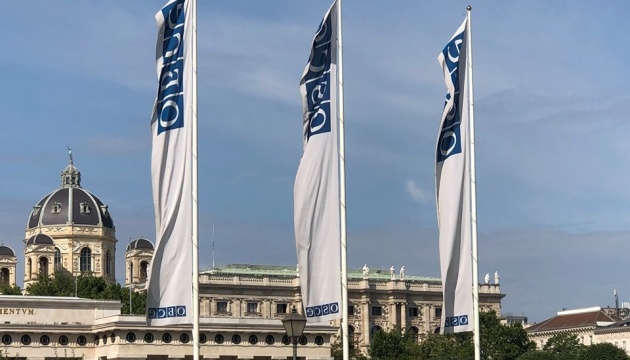 War crime: Ukraine calls on OSCE to respond to killing of doctor in Donbas
Ukraine has called on OSCE participating states to respond to the killing by Russian occupation forces of a Ukrainian combat medic during an evacuation operation in Donbas, which constitutes a war crime, Deputy Permanent Representative of Ukraine to the International Organizations in Vienna Ihor Lossovskyi has said.
He said this at a joint meeting of the OSCE Forum for Security Co-operation and the Permanent Council on hybrid wars and modern warfare in Vienna on Wednesday, according to an Ukrinform correspondent.
"We would like to draw your attention to one of the latest practical examples of the hybrid aggression accompanied by arrogant deceit, cruel betrayal and gross violation of the agreements reached on the elementary rules of honest warfare by the Russian Federation in Donbas. It happened on July 13, 2020, when, at the request of the Ukrainian side of the JCCC with coordination of the OSCE SMM, the safe evacuation of the dead body of a serviceman of the Ukrainian Armed Forces located in the area of the settlement of Zaitseve (Zhovanka), Bakhmut district of Donetsk region, was planned by the Ukrainian Armed Forces," Lossovskyi said.
He said that Ukrainian servicemen had previously received security guarantees from the Russian occupation forces and an obligation to cease fire in the area of Zaitseve (Zhovanka) between 14:00 and 18:00 Kyiv time on July 13.
"However, during the evacuation of the body of the killed Ukrainian serviceman, an unarmed evacuation group, consisting of representatives of the JCCC with the corresponding white 'JCCC' signs, was ambushed by the armed formations of the Russian occupation forces," the diplomat said.
He informed foreign diplomats that representatives of the Russian armed formations had opened fire on the evacuation group. As a result, a medic was killed and two other servicemen of the Ukrainian Armed Forces were wounded in the attack. The medic's body also remained in territory not controlled by the Ukrainian government and had to be evacuated.
"This murder has all the hallmarks of a war crime," Lossovskyi said.
The Ukrainian delegation also showed photos from the scene of the insidious murder of the medic and the wounding of two other servicemen during an evacuation operation agreed with the Russian side.
"Ukraine strongly condemns the barbaric behavior of the Russian military and demands immediate explanations, an international investigation and fair punishment for those responsible for the death of unarmed Ukrainian citizens. We also call on our partners and OSCE participating states to condemn yet another case of gross violation by Russia of elementary norms of civilized international behavior," Lossovskyi said.
"It is absolutely obvious that representatives of the Russian occupation forces have blatantly violated the Minsk agreements, continue the insidious practice of systematic non-compliance with and violation of the security guarantees provided," he added.
op