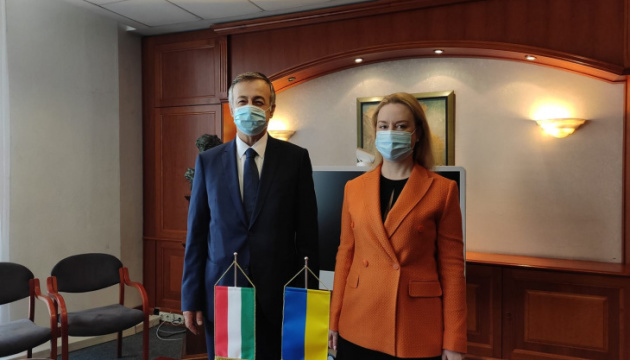 Co-chairs of Ukrainian-Hungarian Commission on National Minorities reaffirm commitment to cooperation
The co-chairs of the Joint Ukrainian-Hungarian Commission on National Minorities, Svitlana Fomenko and Ferenc Kalmár, are set to interact and implement their international obligations.
This was stated in their joint statement released by the press service of the Ukrainian Embassy in Hungary.
On July 14, a meeting of the co-chairs of the Joint Ukrainian-Hungarian Commission on National Minorities, Deputy Minister of Culture and Information Policy of Ukraine Svitlana Fomenko and Ministerial Commissioner for Hungary's Neighbourhood Policy Ferenc Kalmár, was held in Budapest.
"The co-chairs reaffirmed their commitment to cooperation to ensure the rights of the Hungarian minority in Ukraine and the Ukrainian minority in Hungary, emphasizing the important connecting role that minorities play in strengthening and further developing Ukrainian-Hungarian relations," the statement reads.
The parties confirmed that the steps taken to protect and ensure the rights of national minorities must comply with international obligations and the Basic Treaty between Ukraine and Hungary.
At the same time, the co-chairs confirmed that during the next meeting of the commission they will strive for "a comprehensive consideration of urgent issues that need to be addressed, and achieving meaningful results."
The parties praised the resumption of the work of the commission and agreed on further concrete steps to organize its meeting, which should be held in accordance with the priority principle in Ukraine.
The meeting was held in pursuance of the agreements reached during the visit of Ukrainian Foreign Minister Dmytro Kuleba to Hungary on May 29 and the visit of Hungarian Minister of Foreign Affairs and Trade Peter Szijjarto to Ukraine on June 25.
ish