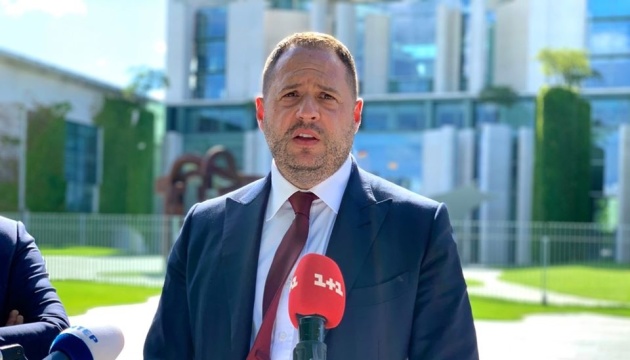 Head of President's Office announces new prisoner exchange
Andriy Yermak, Head of the Office of the President of Ukraine has announced that a new prisoner exchange will take place in the near future.
"We have agreed to continue the exchange. I believe this will result in yet another exchange which will take place in the near future," Yermak told journalists, commenting on results of the meeting of political advisers to the leaders of Normandy format countries, the Ukrayinska Pravda online media outlet reports.
Head of President's Office assured that all parties had reaffirmed the importance of holding the next summit of Normandy format leaders.
"All participants confirmed the importance of the summit in Berlin. Nobody denies that this summit should be held as soon as possible. Therefore, I believe that this summit has to take place in the coming months," he said.
Yermak stressed that all the agreements reached should be fulfilled, especially those on security.
"I can't say that we have an agreed position on all issues," he added. In particular, according to him, the issue of disengagement areas remains open.
Yermak expressed hope that an agreement on measures to ensure a lasting ceasefire would be reached at the next meeting of the Trilateral Contact Group for the settlement of the situation in Donbas.
"The declarative nature of ceasefire has been accepted many times. But we understand that an effective mechanism is needed. Indeed, with the help of our partners from Germany and France, we are very close to establishing this mechanism," he said.
In addition, Yermak noted, a law on the peculiarities of local self-government, in which it is planned to implement the Steinmeier formula, was presented to the political subgroup of the TCG.
"If the formula for the participation of representatives of the territories [occupied Donbas] proposed by Ukraine works, it will be a powerful step to start drafting the legislation provided for in the Minsk agreements and then present it to the Verkhovna Rada for public discussion," Yermak said.
The elections in the occupied territories of Donbas can take place only in accordance with Ukrainian law and after all security issues are settled, he stressed.
ol