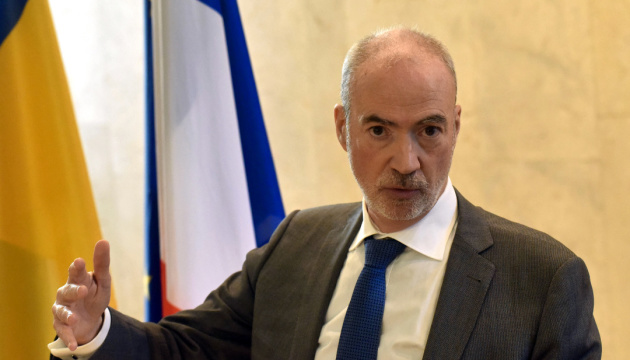 France not holding behind-the-scenes talks with Russia on Ukraine - ambassador
The French side always informs Ukrainian partners about the discussion of the situation in Ukraine by the leaders of France and Russia, French Ambassador to Ukraine Etienne de Poncins has said in an interview with the RBC-Ukraine news agency.
"Of course, we always inform all our Ukrainian partners. There are also talks between Presidents [Vladimir] Putin and [Volodymyr] Zelensky, there are many contacts at the level of advisers. [Head of the President's Office] Andriy Yermak, [Deputy Prime Minister, Minister for Reintegration of the Temporarily Occupied Territories of Ukraine] Oleksii Reznikov, [Defense Minister] Andriy Taran have recently been to Paris, and these talks went very well. That is, there are no behind-the-scenes talks on Ukraine, there is no need to worry about that," de Poncis said.
According to the diplomat, the talks between Zelensky and French President Emmanuel Macron and their teams are very relaxed, "we communicate as friends."
"There is no secret agenda. And, of course, when President Macron talks to Putin, they are not just talking about Ukraine, there are many other issues," the French ambassador said.
Macron and Putin held a video conference on June 26 to discuss issues related to the COVID-19 pandemic and security issues, including Ukraine.
op