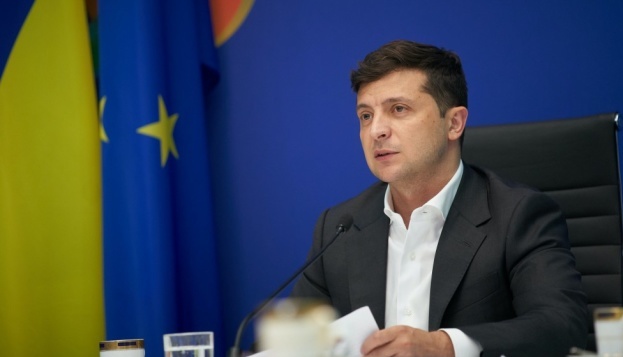 Ukrainian ambassadors should promote export abroad – Zelensky
Ukrainian President Volodymyr Zelensky took part in the panel discussion with the leaders of agricultural enterprises and farms in Kherson region on June 26, his press service reports.
"We want to change this region for the better, that's why we are here, that's why we want to discuss areas where we can urgently help each other, what we need to develop strategically," the president said at the beginning of the meeting.
Representatives of agricultural enterprises called on the president to help promote Ukrainian products in international markets.
Zelensky noted that Ukrainian diplomats should join this process. "These people must have diplomatic experience and appropriate education. But the first aspect now is the seller. That is, they must sell our goods, become exporters of the country. In other words, they are Ukraine's export ambassadors," the president said
According to him, the relevant concept is currently being developed by the Ministry of Foreign Affairs of Ukraine.
"Now, on the initiative of the foreign minister, the institute of trade missions is being restored, which will be aimed at promoting our products, our manufacturer. Therefore, I think that within a month or two we will start working in this direction," Head of the Office of the President of Ukraine Andriy Yermak emphasized.
Representatives of agribusiness once again complained to the head of state about high interest rates on loans.
"Interest rates on loans have dropped to 8-10% per year, but this is not enough to do business properly. We understand that and we will sort everything out. At least state-owned banks will work for a domestic entrepreneur," Zelensky said.
He reminded that there is a state program "Affordable loans 5-7-9%", which needs to be improved.
Entrepreneurs also touched upon the issue of reducing the VAT rate for a number of types of agricultural products, including livestock.
Representatives of the wine industry offered the head of state to draft a comprehensive program for the development of winemaking.
Head of Kherson Regional State Administration Yuriy Husiev called for systematizing the proposals of industry representatives and sending them to the government in order to develop a comprehensive support program.
As reported, on Friday, June 26, President Volodymyr Zelensky was on a visit to Kherson region to inspect the implementation of the Great Construction program in the region.
ish