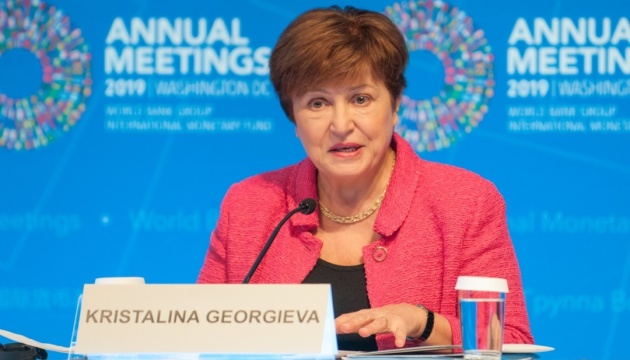 IMF Managing Director: First tranche of SBA to be approved soon
President of Ukraine Volodymyr Zelensky had a phone conversation with IMF Managing Director Kristalina Georgieva.
The parties discussed the situation with the coronavirus pandemic in the world and in Ukraine, the press service of the Head of State reports.
"Unfortunately, the statistics of those infected per day in Ukraine is still quite high, but at the same time the number of those who recovered is growing. We have been on the plateau of morbidity for more than a week now," the President said.
Kristalina Georgieva welcomed the adoption of the law on improving the mechanisms regulating banking activities, noting that it protects taxpayers in Ukraine. She said that the IMF Board would approve the first tranche of the agreed stand-by arrangement for the next 18 months in the near future. The interlocutors agreed that the transition to the stand-by arrangement greatly facilitates the allocation of financial support during the pandemic.
"Thank you for the stable partnership and constructive dialogue. I am glad that the IMF Board will approve the program of cooperation with Ukraine in the near future," Volodymyr Zelensky said.
As reported, the Verkhovna Rada at an extraordinary sitting on May 13 passed a law introducing amendments to some legislative acts of Ukraine to improve some mechanisms for banking regulation.
In particular, it will make it impossible to repeal the NBU's decision to nationalize or liquidate banks and return unfair compensation from the state budget to their previous owners.
The adoption of the banking law is one of the IMF's two main requirements for providing financial assistance to Ukraine (the second condition was the adoption of a law on the land market, which the parliament passed on March 31).
Upon the adoption of the law on banks, MPs Anton Poliakov and Oleksandr Dubinsky registered in parliament draft resolutions proposing to repeal the law.
The Verkhovna Rada rejected the draft resolutions at a sitting on May 19.
On May 21, President of Ukraine Volodymyr Zelensky signed Law No. 590-IX "On the Introduction of Amendments to Some Certain Legislative Acts of Ukraine to Improve Some Mechanisms for Banking Regulation." The law took effect on May 23.
ol