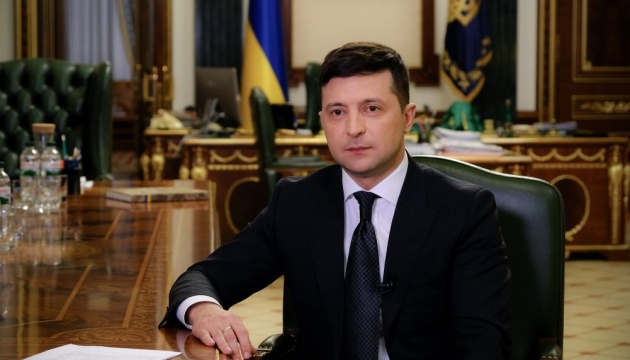 Zelensky, von der Leyen discuss 'green corridors' for goods, resumption of flights
Ukrainian President Volodymyr Zelensky and European Commission President Ursula von der Leyen have discussed the coordination of efforts to overcome the consequences of the coronavirus pandemic, as well as the coordination of steps for a gradual lockdown exit.
The two leaders had a telephone conversation on Wednesday, May 20, the press service of the head of state reported.
"Due to timely measures, we managed to prevent the worst-case scenario of the epidemic. We are closely following the EU's pandemic measures. Thank you personally for the 190 million euro support package for Ukraine announced by the European Commission to overcome the consequences of coronavirus," Zelensky said.
During the conversation, the parties discussed the enhancement of cooperation in the medical field, the provision of "green corridors" for the unimpeded circulation of goods across Europe, the possible resumption of air traffic, and the involvement of Ukraine as an observer in the EU Health Committee.
The sides also agreed that the crisis caused by coronavirus should not impede the free movement of goods and restrict bilateral trade.
Zelensky also thanked von der Leyen for the European Commission's decision to launch another program of macro-financial assistance to Ukraine in the amount of 1.2 billion euros.
"We need bilateral assistance from the European Union to stabilize the economy and public finances. We are ready for constructive cooperation in order to quickly launch and implement this macro-financial assistance program," Zelensky said.
He also said that in the near future he would sign the law on banking activities, paving the way to a new IMF program. It was agreed that in the coming weeks Ukraine will receive the second tranche of the previous, Fourth Macro-Financial Assistance Program in the amount of 500 million euros.
At the same time, the sides paid special attention to the security situation in eastern Ukraine. Zelensky thanked the European Commission for unwavering support for Ukraine's sovereignty and territorial integrity.
Von der Leyen, in turn, congratulated Zelensky on the first anniversary of his inauguration and noted Ukraine's progress in implementing reforms.
The leaders of Ukraine and the European Commission noted the active political dialogue between Ukraine and the EU, which continues despite the current crisis, and agreed on further contacts.
op