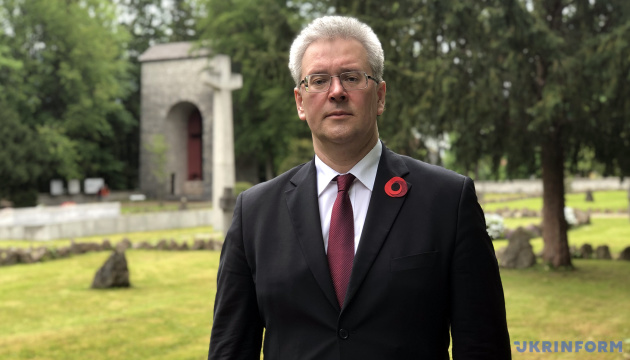 Tsymbaliuk: Idea of peacekeepers in Donbas still on agenda
The idea of deploying an international peacekeeping mission to Donbas has not been rejected but remains in the list of possible actions to establish peace and de-occupy Ukrainian territories, Permanent Representative of Ukraine to the International Organizations in Vienna Yevhen Tsymbaliuk has said in an interview with Ukrinform.
"Since 2014, there have been several ideas on possible ways out of the situation or approaching a situation where peace will be established in Donbas and Ukrainian territories will be de-occupied. All these tools are in the [list] of possible actions," the diplomat said, commenting on whether the idea of a joint UN-OSCE peacekeeping mission in Russia-occupied Donbas is still relevant.
According to Tsymbaliuk, some of these ideas are now more actively involved. "For example, recent new approaches now help develop peace talks more actively, both within the Normandy format and the Trilateral Contact Group. Progress is limited and not as decisive as the Ukrainian side would like it to see, but there are still some changes," he said.
He said this work "is not cut out of context or other realities, and when someone talks about continuing negotiations in one format or another, all possible elements of development are taken into account."
"Therefore, this idea of a peacekeeping mission, which has been raised more than once, is somewhere in the background. If the situation is favorable, it is possible that some other element of this general list of ideas will be used more actively. That is, the idea is alive. I can't say that it is not relevant or has been rejected. It exists and we keep it in this list of possible ways," Tsymbaliuk said.
However, he added, it should be remembered that Russia is the party that has the right to veto a UN Security Council decision on a peacekeeping operation.
op