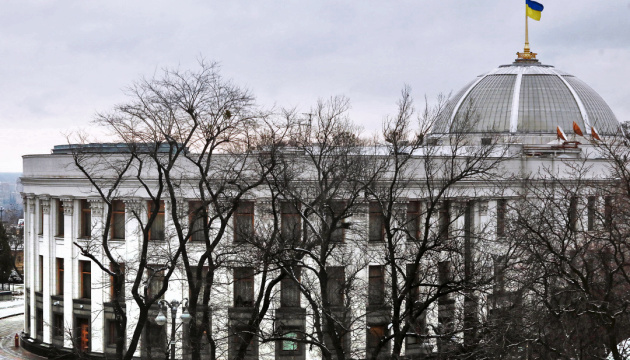 Ukrainian parliament may hold special meeting next week
An ad hoc meeting of the Verkhovna Rada may take place next week, the deputy head of the deputy faction of the Servant of the People faction, Yevheniia Kravchuk, has told Ukrinform.
"An ad hoc meeting may be held next week to adopt budget changes at repeated first reading and the bill on banks at second reading. In addition, the budget and finance committees must meet to make the decision. Therefore, it is unlikely that the meeting will take place on Monday. There is as yet no date for the ad hoc meeting," Kravchuk said.
The politician also added that at this meeting the deputies will also have to consider draft resolutions to cancel the decision on the adoption of the law on the land market. Ten of them have already been registered in parliament as of April 1. According to the parliament's rules of procedure, the Verkhovna Rada chairman cannot sign the law on the land market and submit it for the signature to the president without the consideration of these documents.
Ukrainian Prime Minister Denys Shmyhal said earlier he expected the Verkhovna Rada to vote on the changes to the state budget for 2020 next week.
The parliament on March 30 sent the bill on amendments to the state budget for 2020 for repeated second reading.
The document proposes increasing the budget deficit by UAH 202 billion, to UAH 298.4 billion from UAH 96.3 billion, reducing revenues by UAH 122.9 billion, to UAH 972.6 billion from UAH 1.096 trillion, and increasing expenditures by UAH 79.2 billion, to UAH 1.263 trillion from UAH 1.184 trillion.
op