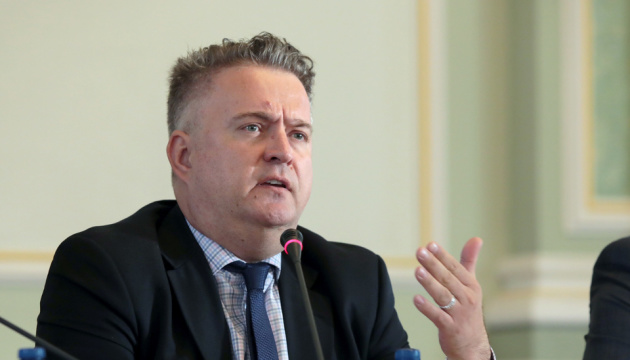 Ukraine's Permanent Representative at UN: Lifting of sanctions ill-timed
Ukraine has sent a letter to the UN Secretary-General, expressing a principled position on the inadmissibility of lifting sanctions against the states and persons who committed crimes and continue to violate the UN Charter and international law.
"Today, I have sent an official letter to the UN Secretary-General to outline Ukraine's position on the inadmissibility of lifting international sanctions imposed for violations of international law," Permanent Representative of Ukraine to the UN Serhiy Kyslytsya said in an exclusive comment to Ukrinform on Monday.
According to him, the document draws attention to the efforts of individual countries, in particular, Russia, to convince the UN that sanctions limit their ability to counteract coronavirus pandemic. These allegations are artificial, the Ukrainian representative emphasized, "because no sanctions package imposed for violation of international order reduces the ability to protect people from coronavirus." It also does not hinder global efforts to tackle the crisis.
"When certain parties use a pandemic for political purposes and call for the abolition of sanctions, it should be seen as a dirty manipulation and an attempt to profit off the sufferings of millions of people. The path towards lifting the sanctions bears no relation to the novel virus pandemic of, it requires the termination of illegal activities," Kyslytsya wrote in a letter to the UN Secretary-General.
The diplomat also expressed Ukraine's position on the need for the utmost openness of humanitarian corridors to provide critical assistance. "At the same time, we must be aware that the issues of sanctions and humanitarian policy do not intersect," the Ukrainian diplomat emphasized.
In addition, the Permanent Mission of Ukraine to the UN drew the attention of other foreign countries to the true nature of initiatives to lift sanctions.
"Ukraine's position is fundamental: the statements of the top leadership of individual states and their draft resolutions on the alleged 'global solidarity' in the fight against the pandemic pursue only one goal: to purge themselves of their aggressive policies and abolish sanctions against the backdrop of a common human disaster," he noted.
Meanwhile, the vast majority of UN member states share Ukraine's view. Thus, the General Assembly currently considers at least two draft resolutions on the solidarity of international efforts to combat the novel coronavirus. One was submitted by Singapore and five other states, and the other by Russia.
"More than 160 countries, including Ukraine, have co-authored the Singaporean document, which is fairly balanced. The Russian text has been endorsed by only a few countries, such world 'leaders' in obeying the UN Charter as Syria, DPRK and Myanmar," Kyslytsya stressed.
Last week, Russia suggested that the UN General Assembly should adopt a so-called "solidarity declaration" in the fight against coronavirus, which obliges member states to waive international sanctions unless they are implemented under the auspices of the UN Security Council.
ol