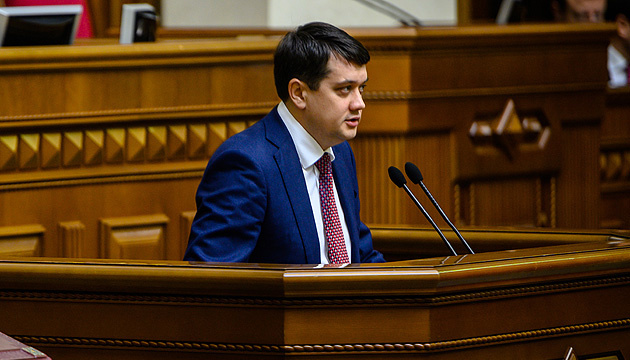 Speaker Razumkov says parliament to hold special meeting over coronavirus
The Verkhovna Rada of Ukraine will hold an extraordinary meeting to consider a bill to respond to the coronavirus outbreak.
Speaker Dmytro Razumkov stated this at a meeting of the Agenda-Setting Council on Monday, an Ukrinform correspondent reported.
"I think that soon we will need to hold an extraordinary meeting of the Verkhovna Rada of Ukraine to consider a draft law that will be soon submitted for consideration during this plenary session. It envisages issues to help various branches of power to settle issues to combat the coronavirus," the speaker said.
As Ukrinform reported, the World Health Organization (WHO) on March 11 declared the novel coronavirus (COVID-19) a pandemic.
Starting from March 12, a three-week quarantine has been introduced at Ukrainian educational establishments, as well as a package of anti-epidemic measures to prevent the spread of COVID-19 in the country.
On March 13, Health Minister Ilya Yemets submitted the draft law "On priority decisions related to the prevention, prophylaxis and elimination of the COVID-19 coronavirus, other infectious diseases associated with it, as well as crisis response measures to prevent the spread of the epidemic".
As of March 16, five coronavirus cases were confirmed in Ukraine, including one death.
iy