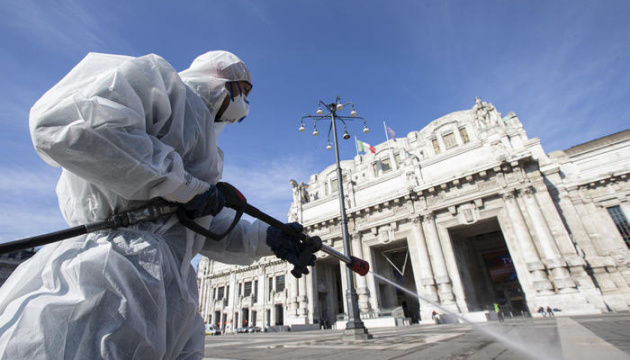 Ukraine decides to evacuate its citizens from Italy
The Cabinet of Ministers of Ukraine has instructed the Infrastructure Ministry, together with the Health Ministry, the Foreign Ministry and the Interior Ministry, to urgently evacuate Ukrainian citizens from Italy due to the coronavirus outbreak.
"The Government instructed the Ministry of Infrastructure, together with the Ministry of Health, the Ministry of Foreign Affairs and the Ministry of Internal Affairs, to ensure the urgent evacuation of Ukrainian citizens from the coronavirus disease (COVID-19) outbreak zone in the Italian Republic," the statement reads.
According to the Government portal, the Cabinet of Ministers at an extraordinary meeting on March 14 also discussed the procedure for the evacuation of Ukrainian citizens.
On March 11, Ukraine's Cabinet of Ministers approved a plan to fight the spread of the Covid-19 coronavirus infection in the country, which envisages a three-week nationwide quarantine in educational institutions and a ban on the holding of mass events.
As of today, three cases of coronavirus infection were confirmed in Ukraine.
A 71-year-old woman from Zhytomyr region, who was hospitalized on March 12 with a laboratory-confirmed COVID-19 case, died yesterday, March 13.
The COVID-19 viral disease is now officially a pandemic, the World Health Organization announced Wednesday, March 11.
ish