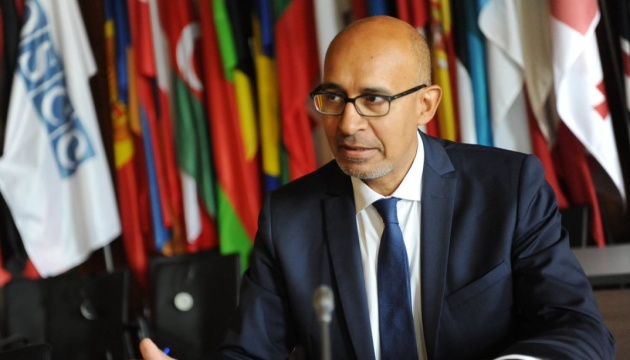 Desir concerned by several provisions of Ukraine's new bill on disinformation
OSCE Representative on Freedom of the Media Harlem Desir has expressed his concerns about several provisions in Ukraine's draft law on ensuring national information security and the right to access reliable information.
He made a respective press statement on Thursday, January 23, according to an Ukrinform correspondent.
"I understand the need to fight against disinformation, especially in the context of the current conflict in and around Ukraine. But this should not be done at the expense of media freedom and through state interference in the content of the media and in the organization of journalism activities in the country," Desir said.
He added that the current Ukrainian legislation "already provides mechanisms to counteract socially dangerous information."
At the same time, Desir stressed that "fighting disinformation is a legitimate aim."
"But the right of everyone to freedom of expression, which is enshrined in the Constitution of Ukraine and in its OSCE and international Commitments, should be fully respected," he said.
According to Desir, self-regulation, support for professional standards of journalism and fact-checking initiatives, independence of the media, diversity of sources to debunk false information, and the development of media literacy are "key components in the fight against manipulation of information and paramount to ensure the access to reliable information."
Desir noted that several media associations and media freedom NGOs, the National Union of Journalists of Ukraine and the European Federation of Journalists "have sharply criticized the new draft law, mostly because it foresees excessive intrusion of governmental regulation and control in the sphere of media and detrimental to self-regulation of journalists."
Desir declared that he stands ready to engage in discussions with the authorities and "to provide a legal review of the draft law, to ensure that it will not affect negatively media freedom and its full compliance with international standards."
The Ministry of Culture, Youth and Sports of Ukraine on January 20 published a draft law on ensuring national information security and the right to access reliable information known as the "bill on disinformation."
The ministry said that the draft law is intended to ensure the exercise of the right of citizens to access reliable and balanced information by introducing mechanisms to combat disinformation in Ukraine's information space and increase the level of media literacy in the public in the face of Russia's hybrid aggression.