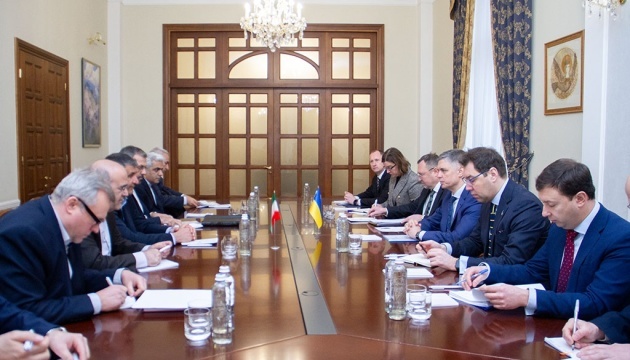 Prystaiko meets with Iran's special envoy to discuss UIA plane crash investigation
On Monday, January 20, Ukrainian Foreign Minister Vadym Prystaiko met with Special Representative of the President of the Republic of Iran Mohammad Eslami who arrived in Kyiv to discuss the details of a Ukraine International Airlines plane crash that took place near Tehran on January 8.
During the meeting, the minister noted that the issue of a transparent and impartial investigation of the plane crash and fair punishment of all those responsible for the tragedy was the focus of attention of both the families of the victims and the entire Ukrainian society, global community and international partners of our state. And that is why wide and open cooperation with Iran in investigating all the circumstances of the crash is extremely important for Ukraine.
Mr Mohammad Eslami on behalf of the Iranian government expressed condolences to the families and loved ones of those killed in the plane crash near Tehran. He assured of readiness for constructive cooperation to ensure a comprehensive and objective investigation of all the circumstances of the tragic accident.
As reported, a Ukraine International Airlines plane (Flight PS752) heading from Tehran to Kyiv crashed shortly after taking off from the Imam Khomeini International Airport at about 06:00 Tehran time (04:30 Kyiv time) on Wednesday, January 8.
There were 176 people on board – nine crew members (all Ukrainians) and 167 passengers (citizens of Ukraine, Iran, Canada, Sweden, Afghanistan, Germany, and the UK).
On January 11, Iran admitted that its military had accidentally shot down a Ukrainian passenger jet.
Iran's Islamic Revolutionary Guard Corps (IRGC) accepted full responsibility for the downing of the Ukrainian airliner.
ish