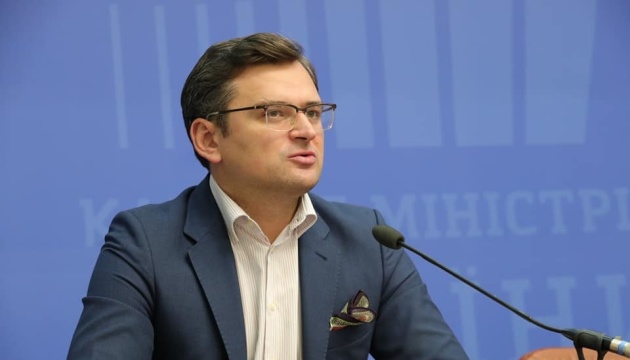 Ukrainian Vice PM expresses 'cautious optimism' over improving relations with Hungary
Ukraine is optimistic about the future of relations with Hungary and hopes to reach compromises in order to settle the situation taking into account the interests of both countries.
"Currently, Hungary does not pose a problem in our relations with NATO. We are cautiously optimistic about [relations with] Hungary. Since the beginning of the year, certain things have happened that allow us looking forward to further joint steps – of both Ukraine and Hungary – to settle the situation," Vice Prime Minister of Ukraine for European and Euro-Atlantic Integration Dmytro Kuleba told journalists on Wednesday following his visit to Brussels, an Ukrinform correspondent reported.
He recalled that the Ukraine-Hungary intergovernmental commission had been created which he co-chaired with Hungarian Minister of Foreign Affairs and Trade Péter Szijjártó. "I look forward to our meeting, where we will certainly discuss development of trade and also the ways out of the situation we have been in for two years," the Ukrainian Vice Prime Minister said.
At the same time, Kuleba stressed that he does not deviate from the position of protecting Ukraine's interests and intends to discuss this during a meeting with his Hungarian counterparts.
"Such a decision and a way out of the crisis [in bilateral relations] should take into account the interests of both Ukraine and Hungary. The situation that existed before the adoption of the education law will not be restored. But the compromises must be sought. We will certainly seek and make compromises, and we expect the Hungarian side to do the same. We need a joint decision, which would take into account the interests of both parties," the Ukrainian official said.
As a reminder, Ukraine-Hungary relations became more complicated after the Verkhovna Rada of Ukraine had passed the law on education. The law expanded the use of the state language in school education. Hungary expressed concern about the future of the Hungarian minority in Ukraine. Budapest blocks the NATO-Ukraine Commission meeting and states it is ready to oppose Ukraine's Euro-Atlantic integration until the law is amended.
ol