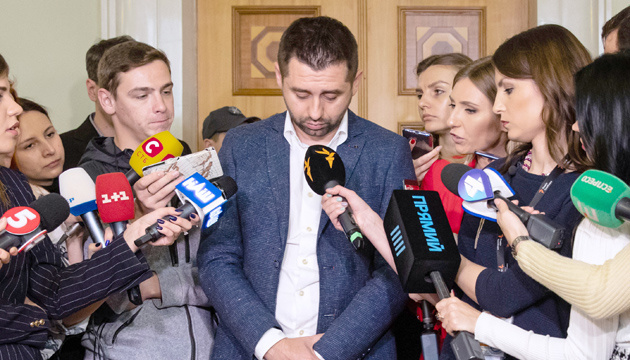 Land bill could block parliament's work for several months – Arakhamia
The consideration of a bill on the sale of agricultural land in Ukraine could block the work of the Verkhovna Rada for several months, the chairman of the Servant of the People faction in parliament, David Arakhamia, has said.
He told this to reporters in the Verkhovna Rada on Tuesday, according to Ukrinform correspondent.
"Given the risks that the Verkhovna Rada could be blocked for several months, we want to vote on all important bills at second reading that have remained since last year and then proceed to the land bill, because the land bill can just block parliament, "Arakhamia said.
On November 13, 2019, the Verkhovna Rada approved at first reading a bill of amendments to some legislative acts of Ukraine on the sale of agricultural land (No. 2178-10).
The bill provides for the lifting of the land sale ban from October 1, 2020. According to the document, persons who can acquire ownership of agricultural land plots are citizens of Ukraine, territorial communities, the state, legal entities of Ukraine, foreign citizens and stateless persons.
On December 17-18, 2019, and on January 14, 2020, farmers took to the streets to protest against the launch of the land market.
Earlier, President Volodymyr Zelensky said that the decision to sell agricultural land to foreigners would be made only after an all-Ukrainian referendum.
On December 28, 2019, the Verkhovna Rada Committee on Agrarian and Land Policy recommended that the Verkhovna Rada adopt at second reading and as a whole the bill on the sale of agricultural land (No. 2178-10).
op