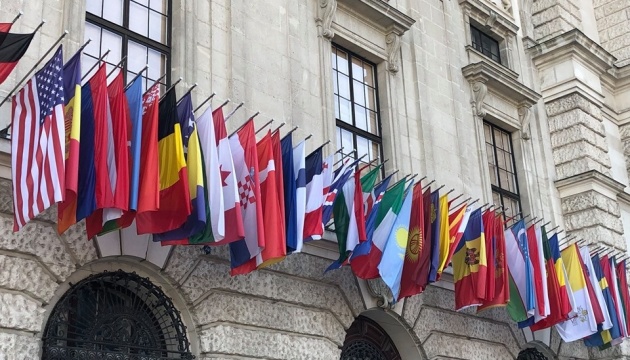 'DPR/LPR' a threat to peace efforts, must be disbanded – U.S. at OSCE
The illegitimate authorities of the so-called "people's republics" in Donbas are a threat to peace efforts and must be disbanded before any elections are held in certain areas of Donetsk and Luhansk regions, Political Counselor Gregory Macris of the U.S. Mission to the OSCE has said.
He said this at a meeting of the OSCE Permanent Council in Vienna on Thursday, November 14, according to an Ukrinform correspondent.
"November 11 marked a year since the sham elections carried out by the so-called 'People's Republics' in eastern Ukraine. Russian propaganda aimed at convincing this body of the legitimacy of its 'referenda' in the Donbas and Crimea has been unsuccessful. The illegitimate authorities established by these sham 'elections' are a threat to peace efforts in eastern Ukraine. Before any legitimate elections can be held in the Donbas, these illegitimate, corrupt bodies must be dismantled," Macris said.
Ukraine's Permanent Representative to the International Organizations in Vienna Yevhenii Tsymbaliuk, in turn, said at the meeting that "DPR/LPR" leaders appointed by Russia during sham "elections" could not be involved in organizing and holding local elections in the occupied areas of Donbas, which will take place under Ukrainian law.
According to him, these persons do not represent local communities in the occupied parts of Donbas "and remain who they are - members of the Russian occupation administrations in Donetsk and Luhansk."
op