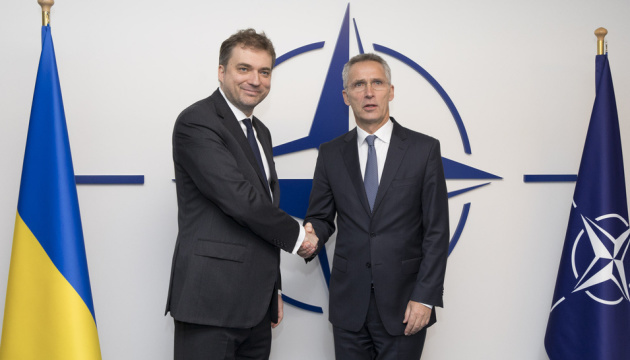 Zahorodniuk: All NATO partners support reforms in Ukraine
Ukrainian Defense Minister Andriy Zahorodniuk noted that the visit of the Ukrainian delegation to Brussels was very successful and all NATO partners expressed support for the reforms in Ukraine and solidarity in the fight against Russian aggression.
"The visit was very successful and intensive... The main thing is that we have agreed on quite serious steps that will allow us to reach a new level of cooperation," Defense Minister of Ukraine Andriy Zahorodniuk told journalists following the visit to NATO Headquarters and talks with NATO defense ministers in Brussels on Friday, an Ukrinform correspondent reported.
According to the Ukrainian minister, the meetings were held with NATO Secretary General Jens Stoltenberg, NATO Assistant Secretary General for Operations, as well as a number of bilateral meetings with defense ministers or heads of delegations of the USA, Canada, the United Kingdom, Poland, Lithuania, Sweden, France, Georgia, and Italy. The Ukrainian delegation also participated in the meeting of defense ministers of the Resolute Support Mission contributing states.
"All countries expressed support for Ukraine, all have a clear understanding of the ongoing Russian aggression. We also sent a very clear signal of our absolute priority to protect national interests, and we are fully supported by both NATO and the countries I mentioned. Our main goal is to determine stance on Ukraine's future accession to NATO, our Euro-Atlantic integration," Zahorodniuk said.
ol