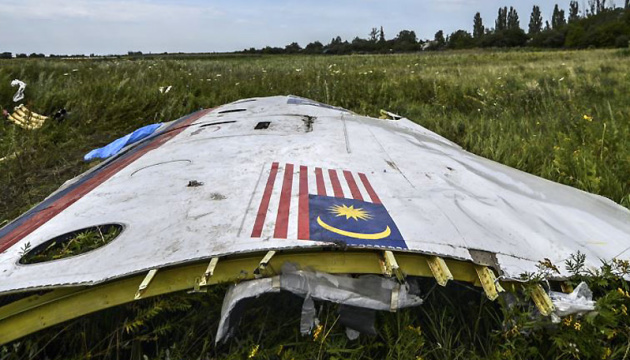 New suspects may appear in MH17 case – Ukraine's ambassador
Ukraine's Ambassador to the Netherlands Vsevolod Chentsov has said he does not rule out that new suspects may appear in the case on the shooting down of flight MH17.
He said this in an interview with Ukrinform.
"This is a question to law enforcement agencies. I'm not sure that this interest can be satisfied before the trial begins. No one can be found guilty before a court makes a final decision. Of course, charges have already been brought against several people. There might be additional persons, but I would have gained patience and waited for the results of court hearings," Chentsov said.
He also said the initiative to use Dutch and English during the trial had been put forward by the Netherlands.
"I know that certain changes have been made to Dutch law. They concerned, for example, such a question as the interrogation of a witness by videoconference. As is known, citizens of Ukraine cannot be extradited to the Netherlands under the Constitution of Ukraine. If there is a need to interrogate such a person, including as part of a trial, such an opportunity will be provided. As for the language of the trial, it was an initiative of the Dutch side to use English as well, because the trial would be watched by the relatives of victims not only from the Netherlands, but also from other countries. Considerable media interest is expected," he said.
Malaysia Airlines flight MH17, which was en route from Amsterdam to Kuala Lumpur, was shot down over Donbas in July 2014. There were 283 passengers and 15 crewmembers on board the plane. All of them died.
In September 2016, the Joint Investigation Team (JIT) said it had been established on the basis of irrefutable evidence that the plane had been shot down by a 9M38 Buk missile launched from the territory controlled by pro-Russian militants in the eastern part of Ukraine. In addition, the JIT said on May 24 that the Buk missile system from which the aircraft was downed belongs to the 53rd Anti-Aircraft Missile Brigade of the Russian Armed Forces stationed in Kursk.
In May 2018, the Netherlands and Australia officially stated that they hold the Russian state legally responsible for the downing of MH17.
op