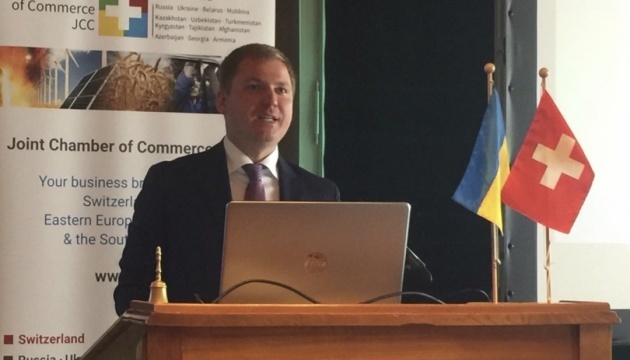 Ambassador: Swiss parliamentary elections open new opportunities for cooperation with Ukraine
The parliamentary elections in the Swiss Confederation, which took place on Sunday, October 20, open new opportunities for Switzerland-Ukraine cooperation.
"It is significant for Ukraine and Switzerland that parliamentary elections in the two countries take place in one political cycle. It will allow synchronising our watches and giving a new impetus to the development of inter-parliamentary cooperation," Ukrainian Ambassador to Switzerland Artem Rybchenko said in a commentary to Ukrinform.
The Swiss Confederation is not a member of the European Union and joined the Schengen area only in 2008. Accordingly, in comparison with other European countries, Ukraine needs to create more tools and platforms for bilateral cooperation with Switzerland. In addition, all available vectors of cooperation should be used as efficiently as possible, and parliamentary cooperation should become a priority, the diplomat added.
Rybchenko drew attention to the fact that the Verkhovna Rada of Ukraine had voted on anti-corruption legislation, while the Swiss parliamentarians had extensive experience in drafting relevant laws, which would undoubtedly be useful for Ukrainian colleagues and could be another area of ​​cooperation for adopting the best world practices.
Another vector of cooperation may be the introduction of digital technologies in governance. Switzerland has been paying much attention and investing a lot of resources to this topic in recent years but the prospect of e-voting remains questionable, first and foremost, for information security reasons. The Ukrainian project "State in Smartphone" also includes a function of e-voting.
"These directions create new starting conditions for meaningful content of the parliamentary bilateral dialogue and strengthening of friendly relations between Ukraine and Switzerland," Rybchenko summarized.
The Embassy of Ukraine in Switzerland, the ambassador noted, will make every effort to ensure that the new compositions of the parliaments of the two countries initiate the practice of effective interaction through friendship groups. Such cooperation is extremely relevant and important for Ukraine within the framework of national delegations to the OSCE PA, the PACE, as well as using other mechanisms of cooperation to further consolidate the international coalition in support of Ukraine's sovereignty and territorial integrity.
ol