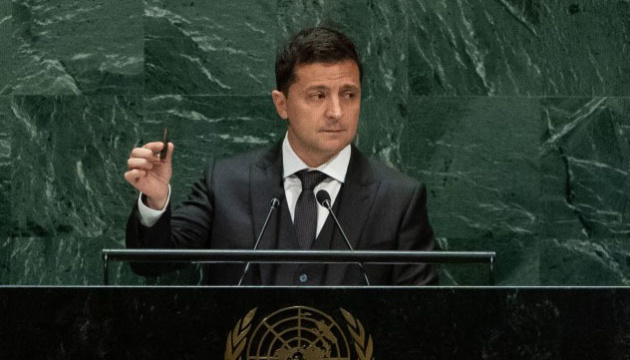 Zelensky tells at UN about Ukrainian opera singer killed in Donbas
Ukrainian President Volodymyr Zelensky has told from the rostrum of the UN General Assembly a story of Ukrainian opera singer Vasyl Slipak who died in Donbas as a result of Russian aggression.
"Everyone of you could have listened to his incredible singing, but, unfortunately, there is a thing that will not allow you to do so again. It looks like this," Zelensky said at the UN General Assembly on Wednesday, showing the audience a 12.7mm bullet.
"The man I just told you about was Vasyl Slipak. [...] He was murdered in Donbas, defending Ukraine against Russian aggression," he said.
Slipak is a Ukrainian baritone opera singer, a soloist of Paris Opera, a volunteer soldier, a participant in hostilities during the war in eastern Ukraine.
He was born in Lviv in 1974. He lived abroad for almost 20 years.
On June 29, 2016, he was killed by a sniper bullet.
In February 2017, Slipak was posthumously awarded the Hero of Ukraine title.
op