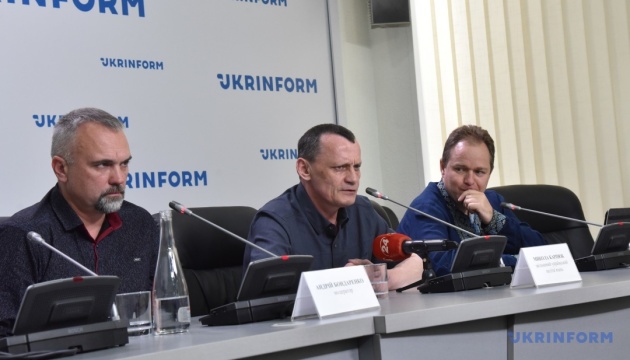 Freed political prisoner Karpyuk: Russia is territory of absolute lawlessness
The Russian Federation is the territory of absolute lawlessness and absence of any rights.
As a commander of the team, which tortured me, told me: 'This is the Russian Federation, there are no human rights here, there is no person as such here.' He put it absolutely correctly. These things must be understood," Ukrainian political prisoner Mykola Karpyuk, who has been recently released from a Russian prison, said during a press conference at the Ukrinform news agency.
He called on Ukrainians to value the freedom they have.
He also emphasized once again that chairman of the Investigative Committee of the Russian Federation Alexander Bastrykin had lied to reporters in October 2014 when saying that he had information and testimonies from Karpyuk and Klykh about Yatsenyuk's participation in the war in Chechnya.
"Stanislav [Klykh] signed some protocol saying he had allegedly seen Yatsenyuk somewhere in Grozny. My evidence regarding Yatsenyuk clearly states that I don't know whether he was in Chechnya or not," Karpyuk said.
Mykola Karpyuk and Stanislav Klykh returned to Ukraine on September 7 as a result of a prisoner swap between Ukraine and Russia in 35-for-35 format. In particular, 11 Ukrainians illegally convicted in Russia, as well as 24 sailors whom Russia captured in the Kerch Strait area in November 2018, returned to Ukraine.
In 2016, Ukrainians Mykola Karpyuk and Stanislav Klykh were sentenced to 22.5 and 20 years in prison, respectively. According to the Russian investigation, they were members of the UNA-UNSO organization and fought as part of rebel groups in Chechnya in 1994-1995.
Klykh said that he had never been to Chechnya.
Later it became known that his mental health had deteriorated greatly as a result of tortures experienced in prison. According to Klykh's mother, Stanislav was subjected to tortures in Russia, being forced to give testimony against former Prime Minister of Ukraine Arseniy Yatsenyuk.
ol