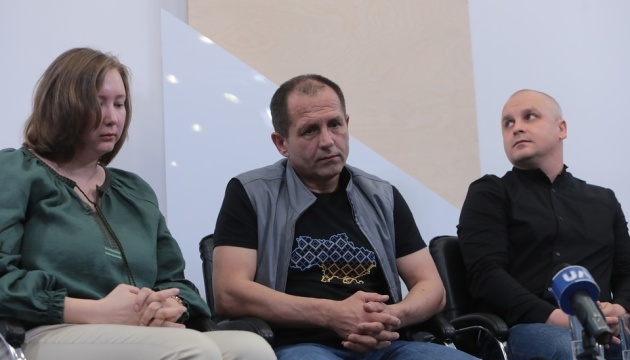 Electric shock and wet pillowcase: Balukh tells about tortures in Russian prisons
Ukrainian activist from Crimea, freed political prisoner Volodymyr Balukh was subjected to torture and physical violence in pre-trial detention center No.1 in Tver and in correctional facility No. 4 in Torzhok town, Tver region of the Russian Federation.
Balukh told about that in a video shown at the beginning of his press conference in Kyiv, an Ukrinform correspondent reports.
"The prison transfer lasted from February 15 to March 28, and physical violence was used in the pre-trial detention center No.1 in Tver city on March 15, 2019. The day I arrived in Tver, I suffered severe physical violence - the torture with threats of sexual abuse," he said.
The former political prisoner said that a pillowcase had been put on his head and water had been poured over. Balukh also endured about 150 electric shocks to his back, legs and other parts of the body and received blows to the ears inflicted with a wet pillowcase.
Balukh also said that from the very first second of his arrival in correctional facility No. 4 in Torzhok town, Tver region, he was subjected to torture and physical violence carried out by the facility staff.
"I was beaten by the correctional facility staff. There were many of them, ten or eight people at least. They kicked me in legs, in the area of liver and kidneys, I stood facing the wall, I almost did the splits feeling a pang of wild pain..." Balukh said.
Volodymyr Balukh is a Crimean farmer. He hoisted a Ukrainian flag on his house and later hung a plate "The Heroes of Heavenly Hundred Street" on his house.
The Federal Security Service of Russia detained Volodymyr Balukh in his house in the village of Serebrianka, Rozdolne district of Crimea, on December 8, 2016. The FSB officers claimed that they had found 90 cartridges and several TNT blocks in the attic of his house.
Subsequently, a case over alleged beating of a head of the temporary detention center in the village of Rozdolne was initiated against Balukh. The activist himself and his defense stated that the jailer was the first to attack him.
In total, a Kremlin-controlled court in Crimea sentenced Balukh to 4 years and 11 months in prison and fined 10 non-taxable minimum incomes of Russian citizens (now this is more than UAH 3,800 in equivalent).
The Memorial human rights center recognized him as a political prisoner.
Since March 29, 2019, Balukh stayed in the penal colony No. in Torzhok town, Tver region.
Balukh returned to Ukraine on September 7 as a result of a prisoner swap between Ukraine and Russia in 35-for-35 format. In particular, 11 Ukrainians illegally convicted in Russia, as well as 24 sailors whom Russia captured in the Kerch Strait area in November 2018, returned to Ukraine.
ol