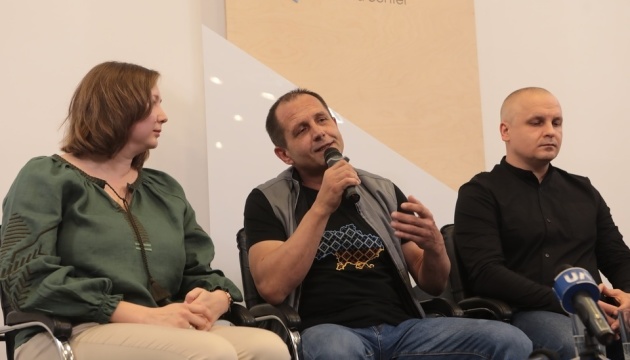 Released political prisoner Balukh issued Russian passport without his consent
Ukrainian political prisoner Volodymyr Balukh, which has been recently released from a Russian prison, was issued a Russian passport without his consent.
"We were not talking about any Russian passport as no one would write any statement. There was written on that decision [on the issuance of a Russian passport] that I got acquainted with it but consider it to be torture, just psychological torture," Balukh said at a press conference, an Ukrinform correspondent reports.
Balukh noted that an officer of the Kerch department of the so-called Interior Ministry decided at his sole discretion that Balukh was a citizen of Russia. Later on, Ukrainian consuls were not allowed to visit Balukh because he allegedly had a Russian passport.
As lawyer Dmitry Dinze noted, the issuance of Russian passports to Ukrainian political prisoners in Russia is a common practice that prevents Ukrainian consuls from obtaining permits to visit them.
Volodymyr Balukh is a Crimean farmer. He hoisted a Ukrainian flag on his house and later hung a plate "The Heroes of Heavenly Hundred Street" on his house.
The Federal Security Service of Russia detained Volodymyr Balukh in his house in the village of Serebrianka, Rozdolne district of Crimea, on December 8, 2016. The FSB officers claimed that they had found 90 cartridges and several TNT blocks in the attic of his house.
Subsequently, a case over alleged beating of a head of the temporary detention center in the village of Rozdolne was initiated against Balukh. The activist himself and his defense stated that the jailer was the first to attack him.
In total, a Kremlin-controlled court in Crimea sentenced Balukh to 4 years and 11 months in prison and fined 10 non-taxable minimum incomes of Russian citizens (now this is more than UAH 3,800 in equivalent).
The Memorial human rights center recognized him as a political prisoner.
Since March 29, 2019, Balukh stayed in the penal colony No. in Torzhok town, Tver region.
Balukh returned to Ukraine on September 7 as a result of the prisoner swap between Ukraine and Russia in 35-for-35 format. In particular, 11 Ukrainians illegally convicted in Russia, as well as 24 sailors whom Russia captured in the Kerch Strait area in November 2018, returned to Ukraine.
ol