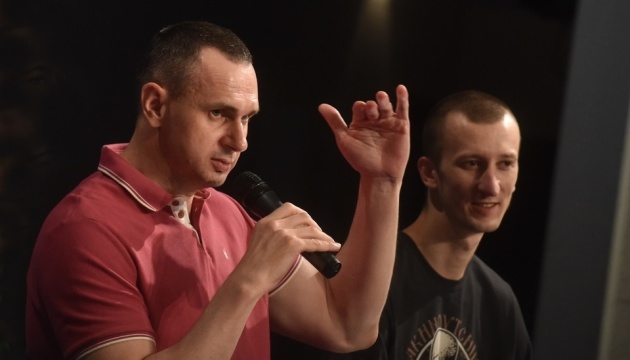 Sentsov: I'll do everything in my power to free other Ukrainian prisoners
The Ukrainian film director and former political prisoner of the Kremlin, Oleg Sentsov, has promised to do everything possible to release Ukrainian prisoners, including those held in Donbas.
Sentsov said this at a joint press conference with another released political prisoner Oleksandr Kolchenko in Kyiv on Tuesday, an Ukrinform correspondent reports.
"Thank you all ... We are very grateful that you supported us and were able to save us … And of course, the following words about those people who still remained there, about our prisoners, about prisoners in Donbas. I do hope that they will also be released. We will do everything to this end. For my part, I will do everything in my power," Sentsov said.
He added that, in addition to our prisoners, there were people in Russia, Russians, who were fighting for themselves, for their free Russia and for our Ukraine.
"These are also our true brothers. You know what is happening there, in particular, the recent arrests and quick trials. I want us not to separate them either. They are also prisoners of the Kremlin," Sentsov added.
As reported, Russia and Ukraine exchanged detainees in the 35-for-35 format on September 7. Eleven Ukrainians illegally convicted in Russia, including Oleg Sentsov, Roman Sushchenko, Oleksandr Kolchenko, Pavlo Hryb, and others, and 24 sailors detained near the Kerch Strait in late November 2018 returned to Ukraine.
ish