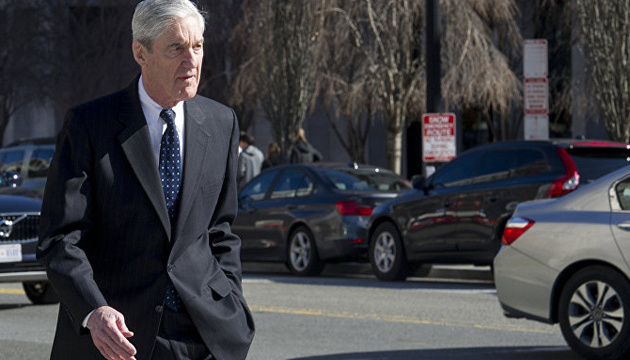 Mueller report season one is over. Season two begins shortly?
American politics more looks like a western movie. How can Ukraine avoid getting hit in the crossfire?
July 24 hearings in the U.S. Congress have become yet another highlight in Mueller's probe. Not as convincing as Democrats sought it to be as they continue to pursue impeachment, yet not as innocent as U.S. President Donald Trump might have anticipated.
What unfolded kept resembling a western movie with legendary Robert Mueller playing the key role. Tacit, mysterious and cautious, the sheriff skillfully dodged bullets... or rather partisan questions.
His mystique, cautiousness and terse manner made the plot tense and at the same time nebulous.
THE MOST PRIVATE PUBLIC PERSON IN WASHINGTON
Robert Mueller has been frequently called "the most private public person in Washington" in the American press. Tasked with unraveling the world's largest scandal in years, the man has avoided public appearances at all costs, it seems. It has even become a kind of competition among the U.S. media to try to catch Mueller somewhere in public.
Rarely have they succeeded: it has only been a few times that Mueller was seen driving into the office behind his car's tinted glass or stepping out of a church after an Eastern ceremony. A journalist even approached him back then but got nothing more than a "no comment" result.
Such privacy comes as no surprise: for the last two years, Robert Mueller has been investigating a "hostile foreign power," as Russia is called here, interference into the 2016 U.S. elections trying to establish whether the then-candidate Trump's campaign conspired with Russians.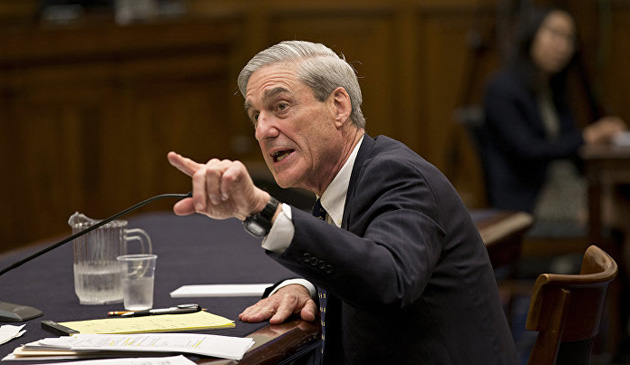 Mueller, 74, has made not just an exemplary, but legendary career. Born in New York and having studied at the same class with future Secretary of State John Kerry. His father was an officer of the U.S. Navy who served in WWII.
In 1968, Mueller learned that his Princeton teammate died at the frontline in Vietnam. So he conscripted to marines and went to fight Vietcong forces. He earned high honors for saving the lives of his compatriots there and later was shot in his thigh.
Upon his return to the U.S., he started his legal career. It was back under Reagan's administration that he's got his first post in the U.S. Attorney General's office.
Mueller has always stood out for his frank honesty and a profound feeling of right and wrong. Legends tell he occasionally refused to defend clients after listening to their testimonies if he felt the person is guilty. He would put it straight: "Well, I guess you should go to jail then."
Mueller kept climbing his career ladder throughout the 1980-1990s. On September 4, 2001 - just one week before terrorists attacked the U.S. - he was appointed the director of the FBI.
What speaks of his exemplary service since is that in 2011 President Barack Obama asked the U.S. Senate for an exception of allowing Mueller to remain in his seat for two more years, despite the FBI's director term being limited to ten years.
This is the person, a patriot with a stainless reputation and exemplary career, that has been picked for the role of the main investigator of Russia's meddling in the 2016 U.S. presidential election.
SO WHAT HAS MUELLER FOUND?
The probe lasted for 22 months. Its report comprised of 448 pages. Nineteen prosecutors worked on the team. They questioned 42 people. Overall 34 persons and three Russian companies were indicted. Six of them are former Trump associates or advisors. Two people unrelated to him. All the rest 26 charged were Russian nationals, including 12 Russian military officers.
What Robert Mueller was able to establish is that Russia did interfere in the 2016 U.S. elections in a "sweeping and systematic" fashion. He described in astonishing detail how Russians used social media campaigns and agents of influence to achieve the result. At the same time, Mueller was not able to find enough evidence of the Trump campaign or Trump himself conspiring with Russians.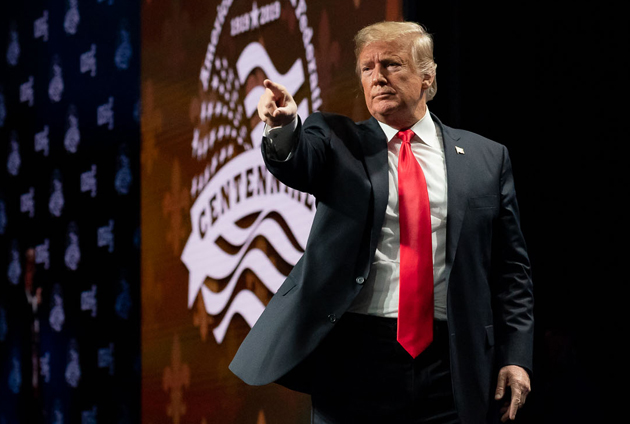 Parallel to the main investigation, Mueller also looked into possible obstruction of justice by the president. It is one of the most "dangerous" charges for a public official in the U.S. and can lead to serious charges as President Richard Nixon's "Watergate" case has proven.
At the end of the day, Mueller concluded he cannot reach a decision as to whether President Trump is guilty, having just listed facts of a possible obstruction, leaving the final decision to AG William Barr who is seen as a loyalist to the president and has swiftly stated that the president is right in claiming there was neither any "collusion" nor any obstruction. Mueller, however, has specifically pointed out in his report that his report "does not exonerate" the president.
THERE IS NO MUELLER REPORT UNTIL TELEVISED
No doubt Democrats were the ones interested in the Mueller report the most as they hoped to use its findings to launch impeachment proceedings. They have long demanded Mueller testify publicly, ever since he finished his colossal work. Hearings were first announced for July 17, then postponed until a week later.
However, agreeing to testify, Robert Mueller has made it clear that he was not going to go an inch beyond the "four corners" of the report's text.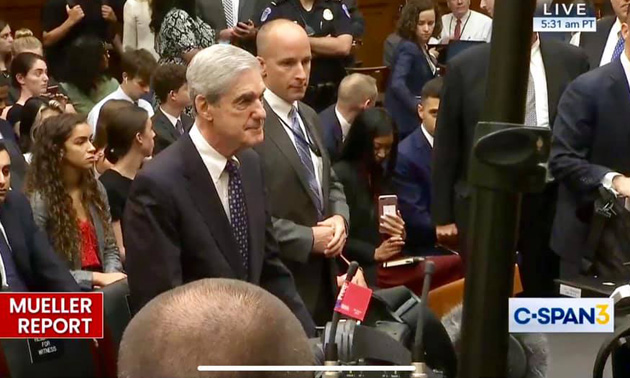 Therefore, it was obvious from the very beginning that Democrats were not going to make the former special prosecutor say the magic "I" (impeachment) word. Nonetheless, the very opportunity to make Mueller testify publicly before the House was more than tempting for them as 99% of American public never read the 448-page mammoth and thus making it televised would be the one in a lifetime opportunity to communicate its contents to the broader public.
Weeks before the day democratic press had been discussing how to question a person who's actually been questioning others for decades. Most of commentators advised to stick to direct-questioning as opposed to cross-questioning which they were sure would not lead anywhere as Mueller would obviously shrug off any leading questions.
Democrats, however, seemed to have chosen another tactic. Most of them were using their five minutes to simply quote parts of the report, asking "is that correct?" at the end, which, obviously, led to Mueller simply agreeing to quotes of his own text.
As a result, it wasn't Democrats or Republicans setting the tone for the lengthy Mueller hearings. Nor was the former special prosecutor himself. Atop of the hill that day in that room were the television cameras, which broadcast the event live to the audience, and were the only hope for Democrats to communicate the report to the audience - both democratic and republican supporters.
Therefore, for those familiar with the report, close to nothing new emerged that day. On the other hand, the facts listed in the report are explosive enough themselves. Numerous efforts by Russians to interfere, meetings with Trump campaign officials and associates, Russian hackers stealing Hillary Clinton's sensitive information, posting it at Wikileaks with Trump's endorsement, etc.
WHOEVER IS SHOOTING, THE KREMLIN GETS HIT
As in any good western movie, most of the Mueller Congress testimony was a fierce shootout between democratic and republican lawmakers. The former shot their questions at a tired 74-year-old public official hoping to get anything incriminating Trump while the latter tried to make clear that all of his probe is in fact a highly partisan nothing burger.
But whoever shot whom one target got hit with a stable frequency in the clouds of dust: the Kremlin.
It was in the very beginning that the sheriff... sorry, former special prosecutor Mueller stated: "Over the course of my career, I've seen a number of challenges to our democracy. The Russian government's effort to interfere in our election is among the most serious."
Despite a fierce fight over whether Trump is guilty or not, political rivals were mostly united in Russia's role, calling it a "hostile foreign power" which "seeks to ruin the American democracy." Such voices united both "blue" and "red" congressmen and congresswomen.
For example, closer to the end of the House intelligence committee hearing, republican senator Will Hurd expressed his concern over the unprecedented Russian interference and asked the prosecutor whether he thinks it was an isolated attempt or rather a consistent Kremlin's policy which will last.
Mueller answered: "Oh, it wasn't a single attempt. They are doing it as we sit here. And they expect to do it during the next campaign."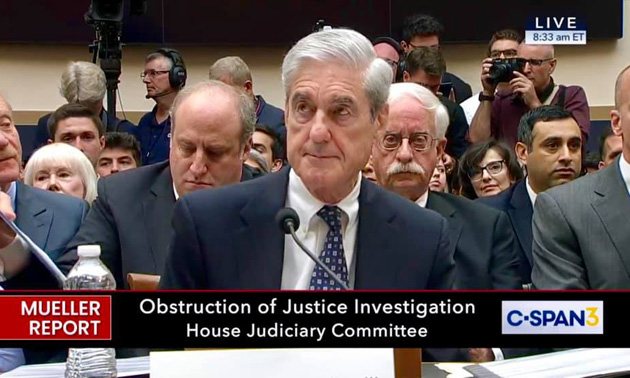 He added that "many more countries are developing capabilities to replicate what the Russians have done."
Mueller asserted that a new legislature has to be pursued "aggressively" and as soon as possible to make sure FBI, CIA and NSA can work effectively together to counter Russian "active measures" and in particular be able to warn early any candidates who might have become their targets or fallen their victims.
In general, word "Russia" sounded multiple times in the Congress room, and exclusively in the context of a kind of a natural disaster, a deadly plague, a toxic epidemic of disinformation, adversary undertaking malicious attempts to ruin the American democracy. It seems that American mass consciousness regarding Putin's Russia is formed for decades ahead.
This would sound very encouraging to a Ukrainian ear if not for certain nuances...
"BUT WHAT ABOUT UKRAINE?.."
Unfortunately, in the course of the shootout, some stray bullets also hit Ukraine.
No, Ukraine was almost not mentioned during Mueller hearings. Russia dominated them all.
However, battles between Trump and Democrats expand far beyond the Congress walls and rage in newspapers and on TV. In this fight, no one abides by the Geneva Conventions.
Trump's most loyal defenders and supporters are frankly quite tired of the past two years of "Russiagate" and have switched lately to counterattack which, as everyone knows, is the best form of defense.
They not only seek proof of Mueller investigation partisan nature and try to cast doubt on the very necessity of his probe being launched but also desperately try to create a storm in a glass of water called "Ukrainian interference in the 2016 U.S. elections to help the Democrats."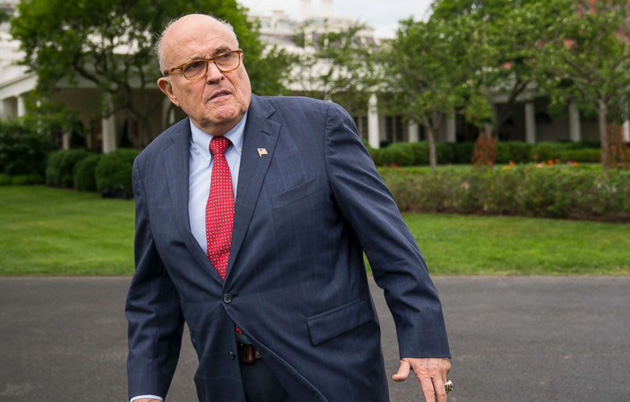 These efforts mostly get especially active around the time another milestone in the "Russiagate" nears. This week was no exception. Some few days before the Congressional hearings, The Hill published another op-ed by John Solomon, a businessman who can hardly be called a journalist, well known for his biased opinions on Ukraine.
The op-ed is essentially an A to Z view of Dmytro Firtash's lawyers who accuse Mueller's team of trying to flip their client by proposing to lift all of his U.S. charges in exchange for dirt on Trump and Putin. It comes as no surprise that no alternative point of view was presented in the article.
Notably, that same day another outlet, Buzzfeed, published a real thorough investigation by journalists Michael Sallah, Tanya Kozyreva and Aubrey Belford of OCCRP. Authors reveal activity of two unofficial U.S. operatives who have been actively looking for proves of the "Ukrainian collusion" over the past two years, gathering information from former and acting Ukrainian prosecutors and supplying this "infoammo" to the president's personal attorney, Rudy Giuliani, who has recently accused our country of interfering into the U.S. elections.
Former New York Mayor Giuliani, in turn, tries to deliver this information to the U.S. president, including by using public statements and comments to the New York Times and Fox News.
July 25 night was no exception. Giuliani appeared on Mr. Trump's favorite Fox News show, Sean Hannity. In the rage of proving Mueller's testimony weak and meaningless, Giuliani also mentioned Ukraine - in the context of John Solomon's recent "article." Giuliani said that "even a Ukrainian oligarch" had more integrity than Mueller's team by declining their proposal to cooperate.
Quite expectedly, this show excerpt was later tweeted out by the U.S. president.
American experts have long ago discovered this circulation of unverified information which makes its way to the American president. It starts with doubtful sources and/or authors publishing op-eds with unverified claims. Then it gets picked up by more well-known people such as Rudy Giuliani, for example. He takes it to cable TV (of a certain part of the political spectrum). Then the U.S. president watches the broadcast and views expressed there form his opinions. The cycle is complete.
HOW TO NOT GET HIT BY THE CROSSFIRE
What Ukraine has to keep in mind is that in this intense American western movie Ukrainians are just audience, not participants. Even if we get under the crossfire we are rather a civilian population of this Wild West village. Under no circumstances should Ukrainians take "weapons" in their hands. Whichever benefits may this or that side propose to make Ukrainians take part in this domestic American political battle.
As we already pointed out in previous articles, Ukraine has been developing strong bipartisan ties in the United States for decades. The heart of Ukrainian-American friendship lies in the American Congress, where the Ukraine Caucus consists of both Republican and Democratic lawmakers. This is exactly the reason why Ukraine has always been able to maintain a decent relationship with the U.S. during all White House administrations.
Taking part in shootouts on one or another side may endanger this bipartisan support. At any excuse should Ukraine not accept any such "proposals" no matter how lucrative they might seem.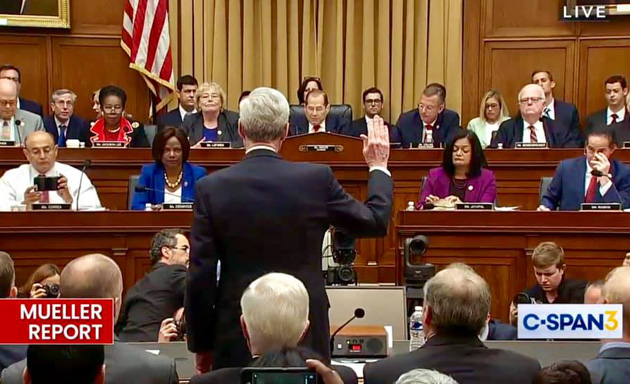 At the same time, a firm standpoint has to be developed regarding any accusations of an alleged "Ukrainian meddling in the U.S. elections." Kyiv should be prepared that this issue might arise in bilateral relations with Washington.
At the end of the day, it does not seem that the "Russiagate" story will fade away any time soon. Most of the democratic representatives ended their questioning by concluding that they understand Mueller could not indict a sitting president and therefore it is now up to Congress to act. This means that the democratic majority may still try to launch a congressional investigation and use Mueller report findings to pave their way to impeachment proceedings.
A possibility of impeachment remains vague but a democratic attempt to move down this road should not be excluded. At the same time, at the other side of the village, behind the cloud of dust, Republicans escalate their war of words too, already claiming that the whole "Russiagate" is a "coup d'etat" (!) attempt.
Meanwhile, the latest polls show that more than 70% of democratic supporters back impeachment idea while 54% of the general public opposes it.
It's for their hearts and minds that the battle is doomed to go on. As the next presidential campaign nears (it starts in only eight months), bullets will fly more often. Ukrainian civilian population should stay away from windows and not join someone else's fight.
Heorhii Tykhyi, New York