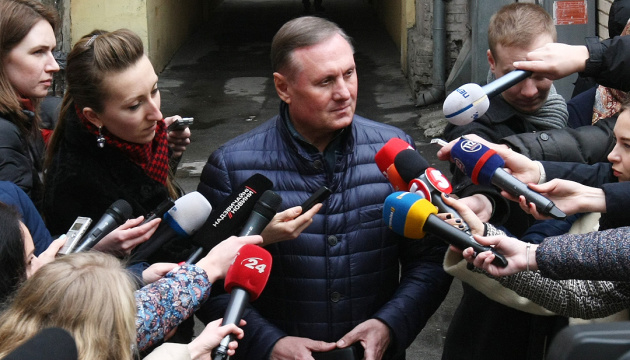 Former Party of Regions leader Yefremov leaves prison
The former head of the Party of Regions faction in the Verkhovna Rada, Oleksandr Yefremov, left a detention center in Starobilsk, Luhansk region, on Wednesday, July 24, according to Ukraine's TSN television program.
The report notes that Yefremov left the detention center at about 08:00. He did not carry any things. His lawyer, Yevhen Solodko, met him on a Range Rover.
Two police officers accompanied them on the car.
On July 22, Kyiv Court of Appeal released Yefremov from custody and ruled to place him under 24/7 house arrest.
The Prosecutor General's Office accused Yefremov of high treason, actions aimed at changing the state border of Ukraine, and contributing to the operations of the "LPR" terrorist organization. Additionally, he is charged with organizing the seizure of the buildings of Luhansk Regional State Administration and the SBU office in Luhansk region.
Yefremov was detained at Kyiv's Boryspil Airport before departure to Austria on July 30, 2016. He initially stayed in a detention center in Kyiv and then in Starobilsk.
op