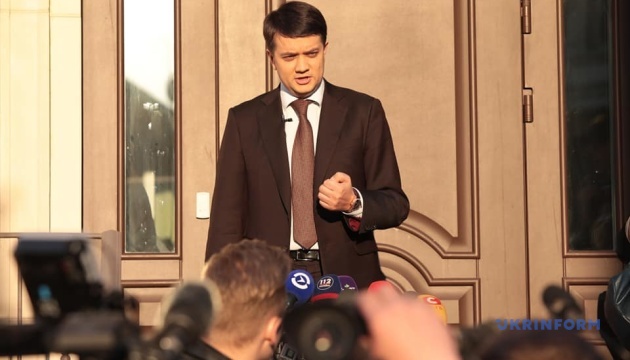 Servant of the People ready to talk about coalition - Razumkov
The head of the Servant of the People party, Dmytro Razumkov, has said that after it was clear that the party gets over 250 seats on Ukraine's parliament, it is ready to talk about the creation of a coalition in the Verkhovna Rada.
"We were and are ready to talk about a coalition with political parties that are close to us in terms of ideological approaches, valuable things," Razumkov said in an interview with RBC-Ukraine.
According to him, the Servant of the People party would like to see new political blocs in the coalition, but they "should have an adequate desire for cooperation."
"Being in a coalition and working together in parliament is not always the same thing. There are things like, for example, parliamentary immunity. In this regard, we are sure that at least this should be supported by other political blocs, because they talked about it, just like us. It will be hard to explain to them why they do not vote for these things, regardless of whether they are part of a coalition or they are part of the opposition," Razumkov said.
op