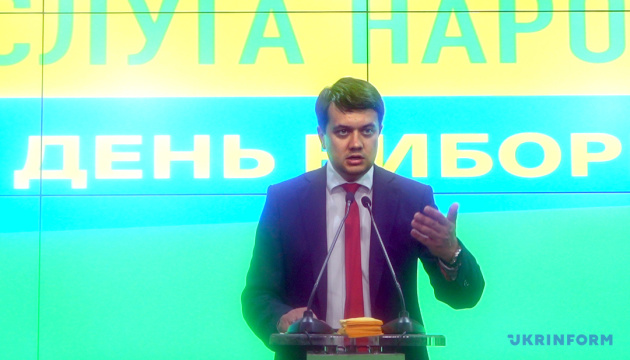 No need to talk about coalition now - Razumkov
The Servant of the People party will soon decide on the formation of a single majority or a coalition with other political parties in the Verkhovna Rada, the head of the party's election headquarters, Oleksandr Korniyenko, has said.
He said this at a briefing at Servant of the People's election headquarters on Monday, July 22, according to an Ukrinform correspondent.
When asked whether the party will form a coalition if it receives over 226 seats on Ukraine's parliament, Korniyenko said: "Now we are waiting for the final results, and then we will decide. These are deep political issues, and we need to discuss them. [...] I think that this information will be made available today or tomorrow."
Dmytro Razumkov, the head of the Servant of the People party, in turn, said that the party would decide on this issue based on the final election results.
"We will proceed from the final results. We will be able to cooperate in the Rada with all political parties that have the same basic vision of the development of our country. But now it's not necessary to talk about a coalition, because we see our rather good results, and we do not fully see the results of our colleagues or opponents in the Verkhovna Rada," Razumkov said.
Snap parliamentary elections were held in Ukraine on July 21. According to the National Exit Poll, five political parties win seats on the Verkhovna Rada, in particular Servant of the People (42.2%), Opposition Platform - For Life (11.4%), European Solidarity (8.8%), Batkivshchyna (7.4%) and Holos (6.5%).
As of 12:00 on July 22, the Central Electoral Commission processed 50.24% of electronic voting protocols. According to these results, 42.44% of voters cast their ballots for Servant of the People. Opposition Platform - For Life garnered 12.87% of the vote, European Solidarity - 8.65%, Batkivshchyna - 8.02%, and Holos - 6.39%.
Other parties do not pass the 5% electoral threshold. In particular, Oleh Liashko's Radical Party gets 3.79%, the Strength and Honor party – 3.74%, the Opposition Bloc - 3.22%, Svoboda – 2.3%, the Party of Sharij – 2.3%, and the Ukrainian Strategy of Groysman – 2.18%.
op