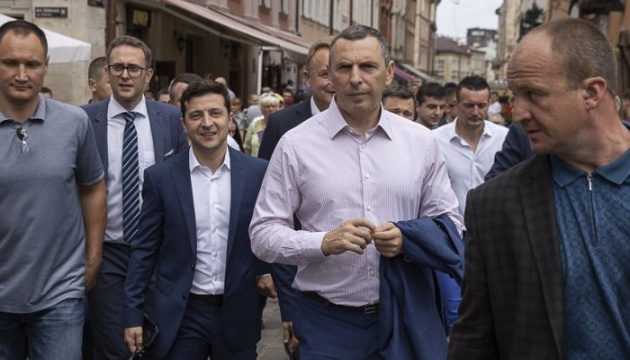 Servant of the People may form coalition with Batkivshchyna, Holos - Shefir
Serhiy Shefir, the first aide to Ukrainian President Volodymyr Zelensky, has said he does not rule out that Servant of the People will form a coalition with Yulia Tymoshenko's Batkivshchyna party and Svyatoslav Vakarchuk's Holos party in the new Verkhovna Rada.
He said this in an interview with the Levy Bereg online newspaper.
"[A coalition] with Poroshenko is not [possible], whereas with Tymoshenko it is quite possible if, of course, there are normal demands," Shefir said.
He added that he opposes a coalition based on the distribution of portfolios.
"I am against a coalition on the basis of the distribution of portfolios. I support a coalition that leads to the arrival of technocrats in the government," Shefir said.
He expressed hope that Vakarchuk's party would enter the parliament. When asked whether the pro-presidential Servant of the People party wants to form a coalition with Holos, Shefir said: "We always wanted that, and this was obvious even from statements made by Vova [President Volodymyr Zelensky] during the election campaign."
op