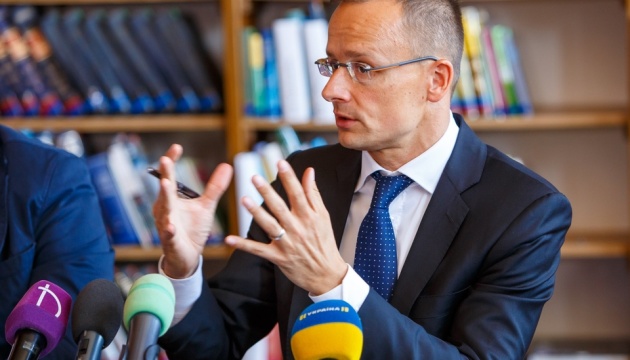 Hungary puts forward conditions for abolishing veto on Ukraine-NATO talks
Hungary will abolish a veto on Ukraine-NATO talks and provide €50 million for border infrastructure development after Hungarians living in Zakarpattia region are returned the right to study in their native language.
"A new stage in Ukraine-Hungary relations is possible only after the parliamentary elections. We frankly hope to see such developments in the parliament in Kyiv that will make it possible to significantly improve the relations between our countries," Minister for Foreign Affairs of Hungary Péter Szijjártó said during a press conference on July 16 at the Ferenc Rakoki II Institute in the town of Berehove, Zakarpattia region in western Ukraine, an Ukrinform correspondent reports.
He added that the Hungarians had developed a plan to improve the relations between Ukraine and Hungary.
"We have a plan for improving these relations, but for this, we need the [assistance of] Ukrainian authorities. As soon as they restore the right of the Hungarian community to get education in their native language, we will be able to establish very intensive economic cooperation for the benefit of the two countries. We have €50 million for this purpose. The infrastructure can be developed, in particular, we are ready to construct four new checkpoints on Ukraine-Hungary border, as well as to establish cooperation between commissions on national minorities and environmental issues," the Hungarian foreign minister said, promising to abolish a veto on the NATO-Ukraine negotiations.
As reported, the relations between Hungary and Ukraine yet again worsened after the Verkhovna Rada of Ukraine had adopted the Law "On Ensuring the Functioning of the Ukrainian Language as the State Language". Hungary responded negatively to the adoption of this law. Earlier, the Hungarian side also sharply criticized the adoption of the Law of Ukraine "On Education" on September 5, 2017.
ol