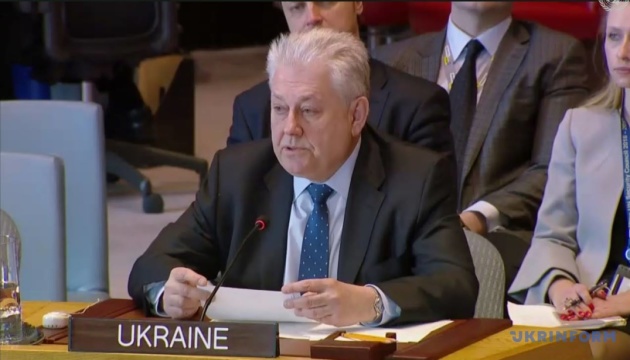 Yelchenko tells UN Security Council about Russia's support for terrorism
The fight against international terrorism and organized requires effective means of bringing to justice the countries for which the financing of terrorism, the fueling of international military conflicts, manipulation and transfer of responsibility have become part of public policy.
Ukraine's Permanent Representative to the United Nations Volodymyr Yelchenko said this in New York on Tuesday, July 9, during an open debate of the UN Security Council on the linkage between international terrorism and organized crime, according to an Ukrinform correspondent.
"We recognize the urgent need to find additional effective measures to counter the evolving trends in both terrorism and organized crime. In particular, having being unpunishably integrated into the state policy of some countries, the terrorism and criminal components lead to the brutal violations of international law, including to the most hostile war crimes and the crimes against humanity. Ukraine continues to experience those consequences while countering the Russian hybrid aggression for already more than five years," he said.
Yelchenko drew attention to the fact that the Russian representative in his speech talked about threats of weapons supplies to terrorists in Syria, while Ukraine would like to hear from him when Russia is going to stop the continuous supply of arms and ammunition "feeding the senseless bloodshed" in the occupied Donbas.
"Switching blame, manipulation, and propaganda, interference into internal affairs of states, fueling international conflicts by supplying weapons and financing terrorism, killing civilians, including medical personnel - that is the modern political course of the Russian Federation," he said.
The Ukrainian diplomat added that transnational criminal activity, including terrorism, must be not only condemned but rather effectively countered and punished.
"Regrettably, the current situation in Ukraine clearly proves that accommodation or appeasement of an aggressor breeds further aggression. That is why it is critically important to firmly hold the aggressor state to account and employ all the necessary instruments to make it return to the tenets of international law," Yelchenko said.
The diplomat also noted that among the factors allowing terrorist and criminal groups to remain active and ambitious are the misuse of technological advances and communication innovations, loosely controlled borders, complex challenges with regard to returnees and relocators from the conflict zones, insufficient prosecution and punishment measures in place for those who provide funding or other support to terrorist and criminal activities "in any form and by any methods."
op