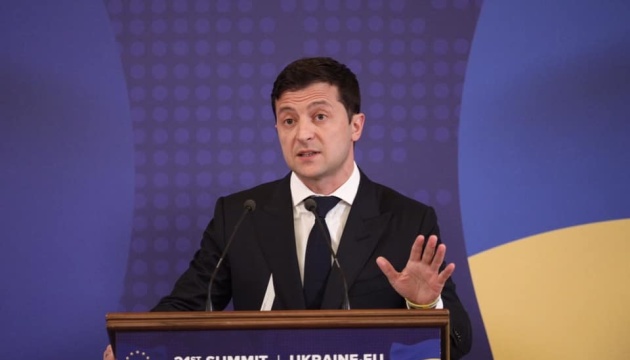 Zelensky invites EU to jointly assess Association Agreement
Ukrainian President Volodymyr Zelensky has invited European partners to jointly assess the implementation of the Association Agreement between Ukraine and the European Union in order to get to a new level of cooperation.
He said this at a joint press conference with European Council President Donald Tusk and European Commission President Jean-Claude Juncker as part of the 21st EU-Ukraine Summit in Kyiv on Monday, according to an Ukrinform correspondent.
"This [association] agreement should be a flexible instrument that corresponds to the current realities of our relations, and most importantly, the potential of Ukraine. That is why I invited our partners to start a joint assessment of the implementation of the agreement in order to get to a new level, a level that would be in line with the interests of Ukrainian and European businesses and our consumers," Zelensky said.
He stressed that now Ukraine would effectively use all available opportunities for cooperation with the EU.
"We are committed to further sectoral integration of Ukrainian and EU markets in priority areas - energy, the digital market, justice and home affairs, customs cooperation, and trade facilitation," Zelensky said.
op