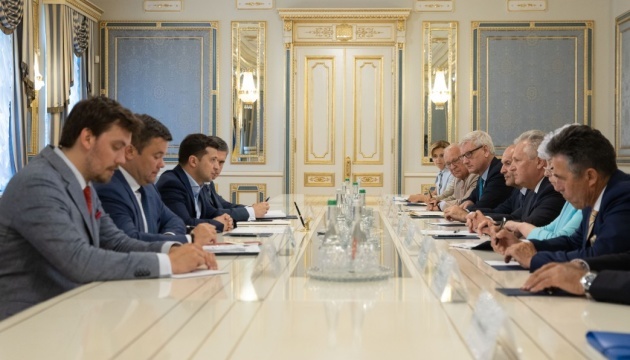 Zelensky meets with YES Supervisory Board members
On June 19, President of Ukraine Volodymyr Zelensky met with members of the Yalta European Strategy (YES) Supervisory Board, the press service of the head of state has reported.
The president briefed the YES Board representatives on key priorities of his activities, including the establishment of peace in Ukraine, the protection of its sovereignty and the restoration of territorial integrity, as well as the implementation of systemic reforms, strengthening of the state's defense capability, and ensuring the successful development of the country.
Zelensky also informed about the results of his official visits to France and Germany, during which the main attention was paid to putting an end to the war in Donbas and the return of Ukrainian captives, including sailors.
The president noted that the Trilateral Contact Group would hold a meeting today. "I believe that not only our party wants to achieve peace shortly," he added.
The head of state informed that the foreign policy advisors to the heads of state and government of the countries - participants of the Normandy format would meet in July.
He also stressed the need to rebuild the Donbas infrastructure. According to him, the investment forum for the restoration of the region is scheduled for September.
The parties also discussed the holding of the 16th annual meeting of the Yalta European Strategy in September 2019.
"Unfortunately, this meeting will not take place in Livadia Palace again, but we hope to return to the Ukrainian Yalta as soon as possible," the president said.
ish