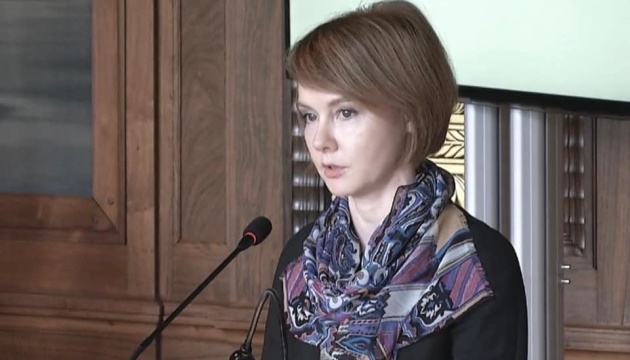 Ukraine v. Russia: PCA may take decision on jurisdiction within six months
The Permanent Court of Arbitration in The Hague may take a decision on the jurisdiction over a lawsuit on Russia's violation of the UN Convention on the Law of the Sea in the Black Sea, the Sea of Azov and in the Kerch Strait filed by Ukraine within six months.
"We are waiting for the date and the decision of the Tribunal within six months. This will definitively become known by the end of the year," Ukrainian Deputy Foreign Minister, Agent of Ukraine Olena Zerkal told reporters, an Ukrinform correspondent reports from The Hague.
She expressed hope that the Ukrainian side would convince the Court that it had the jurisdiction and the case would be considered on the merits.
"On Thursday morning, we will hear their [Russia's] objections to our position. On Friday afternoon, we will end this week with presenting the Ukrainian position, and then we will wait for the Court's decision on jurisdiction. In fact, we are glad that Russians are participating in this process. And we hope that they will respect the decision of the Tribunal in accordance with the Convention, just as we hope that they will enforce the order on our captured sailors," Zerkal said.
She also recalled that the tribunal was formed by two parties. In December 2016, the agreement with the Russian Federation was reached on the composition of arbitrators. According to the Ukrainian deputy foreign minister, the consultations with representatives of the Russian Federation were held in Minsk in the summer of 2016.
"We shared our views on their violations. Russians said they did not consider that to be a violation since Crimea was their territory so they did not view any of their actions in the Black Sea and the Sea of Azov and in the Kerch Strait as the violations. After that statement, we had no reason to continue those consultations," Zerkal explained.
As reported, on June 10-14, the Permanent Court of Arbitration holds hearings on the preliminary objections of the Russian Federation in the arbitration Concerning Coastal State Rights in the Black Sea, Sea of Azov, and Kerch Strait, instituted by Ukraine against Russia.
The opening statement of the Russian Federation was delivered on Monday, 10 June 2019. Ukraine delivered its opening statement on June 11. The second round will be held on June 13-14. On Thursday, 13 June 2019, the Russian Federation will present its second round of oral arguments. On Friday, 14 June 2019, Ukraine will present its second round of oral arguments.
The arbitral proceedings were instituted on 16 September 2016 when Ukraine served on the Russian Federation a Notification and Statement of Claim1 under Annex VII to the United Nations Convention on the Law of the Sea ("UNCLOS"). The Notification and Statement of Claim refers to a "dispute concerning coastal state rights in the Black Sea, Sea of Azov, and Kerch Strait."
ol